Marketing Strategy 101: Back to the Basics in Effective CRM Management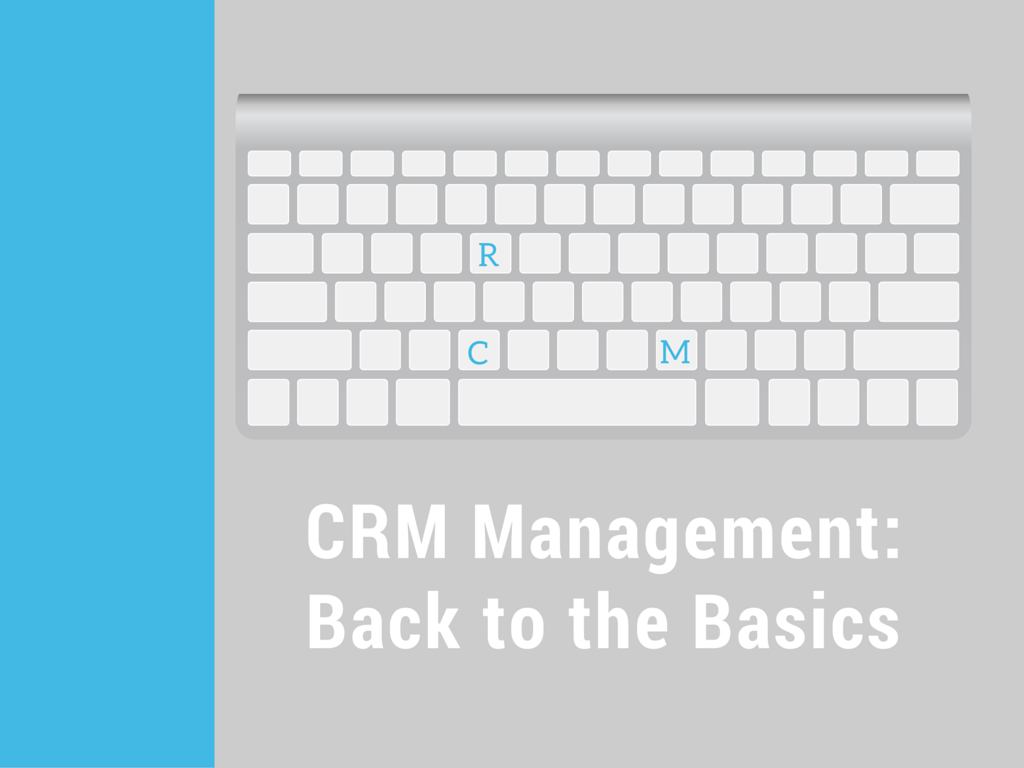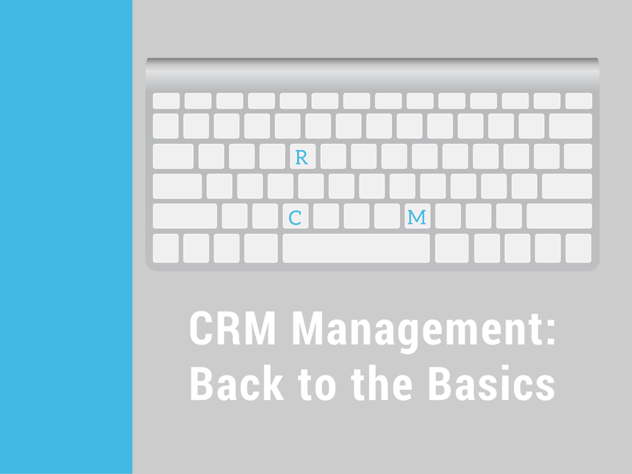 Customer relationship management (CRM) has moved well beyond the point of being a concept. It's now a concrete aspect of any effective marketing strategy, complete with fully integrated software that monitors virtually all points of contact with leads. Today, it's impossible to achieve sales and marketing alignment without the use of CRM software, and it's impossible to scale and grow your business if you can't close your sales loop.
However, the ubiquity of CRMs means that many companies simply accept them at face value. That is to say, they rarely consider if they should be getting better marketing results from utilizing their CRM to its full potential. To help marketers have this internal discussion, we've compiled a list of the core tenets of managing CRM software. If you've never used a CRM before, you'll find this to be a handy guide for getting started. If you're already well-versed in using a certain CRM platform, you may be surprised to find that your management process might be lacking in some critical areas.

Finding the Right CRM
No two software tools are created equally, and that's especially true in the world of CRMs. From an outside perspective, it might seem like all of these programs are the same. However, each CRM serves a different purpose, which means that there's a CRM out there that's perfect for your company, no matter how unique you may be.
Take some time to talk to the key players in your organization about what they're looking for in a sales and marketing alignment solution. Don't just talk to the executives; spend some time with the staff-level employees that will actually be using this software to carry out day-to-day sales or marketing tasks. Find out what they want out of a CRM, and make sure you understand exactly how the CRM will fit into their already existing process. After all, the goal of a CRM is to facilitate clear communication both internally and with prospective and existing customers.


Employee Training
Once you have your CRM picked out, installed and integrated with your other sales and marketing technology, it's time to work with your employees and make sure everyone is on the same page. A formal training period will help everyone to buy into the concept of a CRM if they haven't already; it'll also help your company to get the maximum value out of your investment. After all, a CRM can only help streamline sales and marketing processes if you get everyone on both teams to cooperate and openly communicate with each other.
Although some members of your team may have worked with CRMs in the past, they will still require hands-on training. You don't want to merely assume that personnel with prior experience know what they're doing, and consequently take a hands-off approach. These assumptions can lead to inconsistency in your process and in your data, which will create serious headaches down the line.


Gather Data
The most important job of any CRM is to compile data your sales and marketing teams can use to improve tactics and communication with potential and existing customers. You can't build successful relationships if you don't know anything about them, right? Therefore, it's in your best interest to track the most effective ways to communicate with each lead.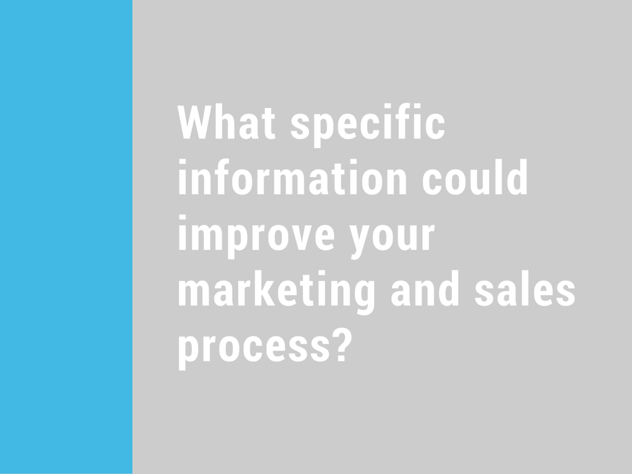 Depending on how your business operates, this step will vary significantly from company to company. You might start the data gathering process when a lead fills out a form on your website. You may have to manually enter information regarding phone calls made to a qualified lead, or you could input data regarding an offline direct marketing campaign. While the particulars are always different in each business, what must always remain the same is the dedication to capturing all of the pertinent information for each lead in an organized manner. Missing or incomplete data will always result in a lost sale.
Also, just because your CRM is capable of capturing an infinite amount of data, that doesn't mean you actually need to capture it all, especially if it doesn't improve your marketing or sales processes. Don't overcomplicate things. Remember, your CRM is working for you, and not the other way around.


Transform Data
The real beauty of CRM software is its ability to do your thinking for you. All CRMs track customer and lead data so that you understand how your marketing is working, as well as how it's not. Some CRMs provide lead scoring, which allows you to see a numerical estimate of how good your chances are of converting a lead into a customer.
Figure out the numbers that matter most to your company, and use your CRM to keep a close eye on those metrics. Ultimately, your CRM is only as good as your ability to interpret the data you gather. Again, you'll want to identify key performance metrics early so that there's no confusion as to what constitutes a high-potential lead or a valuable customer. Some companies collect a ton of data and find themselves unable to interpret any of it. Don't make this mistake.


Change with the Times
Marketing is an industry that changes on a daily basis. It's only natural that your CRM has the same ability to keep up with the times. If you have a static CRM, you're facing an uphill battle to say the least. Your goal is to keep your CRM up-to-date with what's happening in the marketing industry so that you're never left behind as a result of inferior software.
For example, imagine a CRM that didn't play well with social media. This seems unfathomable today, but it would be a very harsh reality to face if you found yourself stuck with an outdated program. However, the ability to incorporate social media gives you tremendous power. You can identify the social media profiles of your leads through the email addresses they provide, giving you the ability to see what these prospects are saying about your company online, if they're saying anything at all.


Control the Conversation
The best part about inbound marketing is that it gives you the power to monitor and control the conversation regarding your brand. Through frequent communication, you can keep customers posted about what you're up to; you can also share vital industry content and educational materials. Your CRM can help with this by highlighting which email approaches work the best for your customer base.
Another way CRMs help you guide the dialogue surrounding your brand is by letting you know when a lead or customer has gone cold. Your software can tell you if someone hasn't made a purchase in a while, if they've stopped opening your emails or even, as suggested earlier, if a customer has made negative remarks about your company online. As you proactively react to situations such as these, you can track your communication in your CRM as you attempt to re-engage prospects. Going this extra mile will can not only help you rescue leads, but it'll do a lot of goodwill, and that goodwill is always noticed by customers. Best of all, it's made simple through your CRM.


Tweaking Your CRM
Nothing is ever perfect in business, and your CRM software is no exception. After you've had your CRM for a while, it's a good idea to take the temperature of your staff's reception to their new software, or the new management processes you've implemented. In doing this, your main objective is to make sure that your CRM is doing what it's supposed to do — namely, make things easier for your employees and make your sales cycle more transparent.
There are always little tweaks that may seem minor, but can make a big difference to the people who have to use the CRM on a daily basis. Consider their feedback, then work with your CRM provider to see if there's anything that can be done to adjust the software to fit your company's needs. Your employees will thank you with even better work and higher lead conversion rates.


Spur Upward Growth for Your Company
There's no mystery as to what comprises an effective sales and marketing strategy. You need a system in place for gathering and interpreting data, you need robust tracking tools and you need to make sure everyone on your team is capable of working with your data and tracking infrastructure. A top-quality CRM software package can handle all of these needs, and more. By following these steps — even if you've used a CRM before — you'll unlock the true potential of your software, and you'll increase employee satisfaction in the process. Most importantly, you'll be able to reach customers and leads like never before, driving your conversion rates and sales in the upward direction all marketers like to see.