3 Ways You Can Improve Communication Between Your Marketing and Sales Teams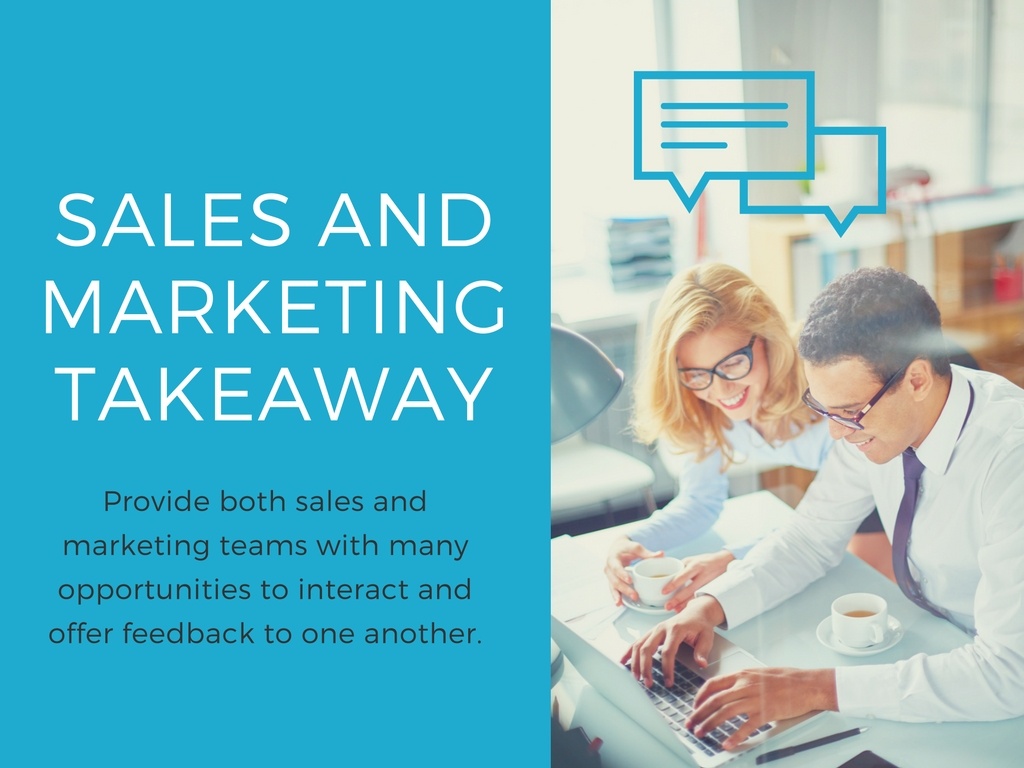 Have you heard of the term "smarketing?" In a nutshell, it's a strategic marketing process that aligns your sales and marketing teams through clear and frequent communication. In this process, you create measurable goals that provide mutual accountability for each team. Smarketing is essential for business success because it helps to streamline your processes and ensure that each of these revenue-generating departments is using their time effectively rather than working against each other.
The only way to achieve effective smarketing is by ensuring that there is a clear line of communication between your marketing and sales teams. Below we discuss three ways to improve communication and get the most out of this strategic process.
1.
Use a CRM
to allow sales access to valuable marketing data and content.
Your marketing team has a wide variety of data on all of your leads. It only makes sense to share this data with the sales team who is now following up with and working on converting those prospects into paying customers. Using a CRM like Hubspot is an easy and efficient way to provide your sales team with the marketing data they need to close the sale. Utilizing a CRM also allows your marketing team to share content with the sales team that may be valuable as they are following up with leads. Email templates are one easy way to share this content. After you draft the templates —complete them with links to the appropriate content — your sales team can use them as resources to help convert customers to various stages in the sales funnel.
Planning your Inbound Marketing Campaign for 2017? Download our free workbook to help streamline and organize your inbound efforts!
2. Encourage feedback between marketing and sales.
An important part of improving communication between marketing and sales is making sure that each team listens to one another and has the opportunity to make their voice heard. To do this, you need to make sure that communication is not just going from top to bottom. Provide both teams with many opportunities to interact and offer feedback to one another. For instance, you might have marketing team members sit in on a sales call or product demo, or you could ask sales for feedback on ideas for a new marketing campaign that would match your prospects' pain points.
By allowing your marketing and sales teams to provide feedback to one another, you may find that individuals from both departments are able to provide a new perspective or valuable insights on each team's initiatives. Not only this, but you are also able to build trust and promote successful communication between the departments.
3. Create a marketing and sales service level agreement (SLA).
One reason smarketing is so important is because marketing and sales teams are often at odds. Marketing works hard to generate leads that they feel sales may not follow up with, and sales spends a lot of quality time following up with leads that they sometimes feel are not qualified. The best way to address this problem is by creating marketing and sales SLAs.
The marketing SLA will define the number and quality of leads that your marketing team will deliver to sales each month, and the sales SLA outlines the expectations that marketing has for how thoroughly and frequently your sales team will pursue each qualified lead. The SLAs help improve lead quality, and thus profitability, while also enhancing communication between your marketing and sales teams. After you have defined the terms of the SLA, track each team's monthly progress so that both teams can stay up-to-date and informed.
Increase Your Company's Efficiency and Effectiveness
The best way to ensure that both your marketing and sales teams are working efficiently and effectively is to establish a clear line of communication and build trust between the two groups. Once you achieve this, you will find that both departments are using their strengths and expertise to work toward your unified business goals.