What is Smart Content, and How Does It Improve Marketing Effectiveness?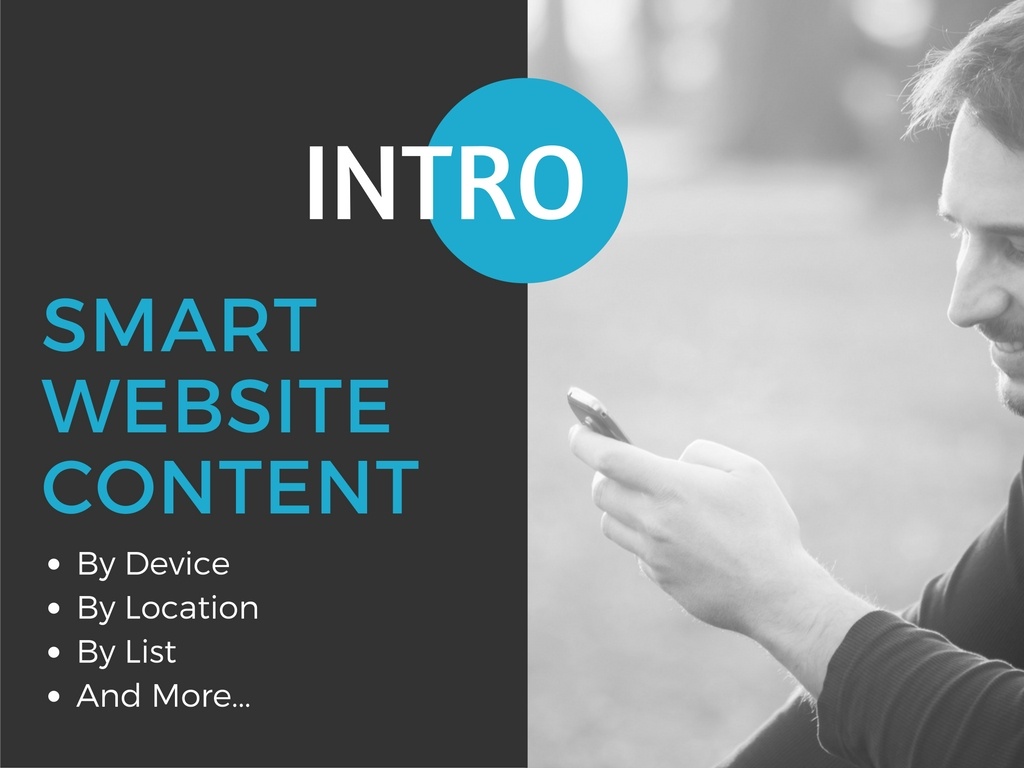 Any savvy marketer knows that you must have a defined understanding of who your ideal customers are in order to engage them with your blog, website and social media content. That's where buyer personas come in: They represent your ideal prospects based on market research and real data about your existing customers. Just like your customers, the buyer personas you create can have different demographics, behaviors, motivations and needs.
Creating customized content at each stage of the buying cycle that appeals to your buyer personas is a strategic element of your inbound marketing process. Why? Because in order to help them convert, you have to provide relevant offers (like white papers, product demos and eBooks) that help move them closer to making a purchase.
So how do you intelligently serve up content relevant to your customers' needs? With Hubspot's Smart Content feature. Not only can you gear content towards specific personas, but you can also serve up content on your website that's relevant to each prospect's stage in the buying cycle without interrupting their user experience. As you learn more about your website visitors and develop your buyer personas further, Smart Content allows you to offer appropriate content to your visitors each time they come back.
How does Smart Content work?
Smart Content is powered by smart lists and lifecycle stages. Smart lists recognize your customers' different lifecycle stages — what stage they are in during the buying process — allowing you to strategically customize the content they see as they browse your website.
Upon an initial visit, a website visitor views the default content (most likely a top of the funnel offer that appeals to customers who are just beginning to express interest in what you have to say). Then, when a visitor returns to your website after filling out a form on a landing page to download that top of the funnel offer, they bring some context with them. Using the Smart Content feature, you can choose which offer they see. If you're a savvy marketer, you'll serve up an offer from the middle of your sales funnel to help them understand how you can help solve their problems, and effectively move them to the decision stage.
Going a step further, Smart Content can even be personalized by what country a visitor is from, what device a visitor is using, how a visitor has been referred, what list a visitor is a member of and even by their lifecycle stage. For example, if a previous customer is viewing your site on their tablet, you can personalize their viewing experience by greeting them by name, offering product suggestions similar to what they've purchased in the past and ensure the site is optimized for mobile — specifically tablet — viewing.
Why is Smart Content so great?
According to research from HubSpot, calls-to-action that are targeted to the individual user actually perform 42 percent better than those that are not. Clients of Get Smart Content, a company dedicated to producing customized content, see an increase in form submissions, an increase in time visitors spend on their websites and a decrease in bounce rate. And a study by Janrain found that 74 percent of online customers have been found to leave a website when the content doesn't align with their interests.
Integrating more strategic content tactics into your marketing strategy can drastically improve the performance of your site and the engagement of your visitors. Customers like to feel valued — if a company they're researching or thinking of buying from is in tune to their needs and offers relevant suggestions and products, they'll be more likely to actually click and make a purchase. And afterward, if they continue to be delighted by a company, they're more likely to return for additional purchases or recommend that company to others.
How should you use Smart Content?
First, we should go back to lifecycle stages. If someone has just been introduced to a problem and is researching options to solve it, it's probably not the best time to show them content discussing prices. Instead, it would be more appropriate to show content offering suggestions to help alleviate different pain points. The more relevant the content is, the more valuable it will be and more likely a web visitor will convert.
Let's use the example of a cell phone company. If a customer reaches the company's homepage, the content might greet them by name and encourage them to log on and view their bill. But if a sales-qualified lead reaches the homepage, the content might be a buying guide that shows the different plans. And if a general lead reaches the homepage, content that explains the company's coverage map or cell phone options might be more appropriate.
Customized CTAs and landing pages also help move individuals through the sales funnel. If a moving company is appealing to a general lead, it might offer a downloadable packing checklist. For a sales-qualified lead, it may instead be a CTA for a free moving estimate. For a returning customer, it may be a case study about the company's green initiatives with recyclable materials or energy efficient vehicles.
And don't forget the simple touches with list-based personalization. If someone is viewing your site from the U.S., it makes sense to offer content in English. However, offering language or currency options for those viewing from outside the U.S. can go a long way toward delighting existing and potential customers. Along the same lines, a special offer for individuals who've attended a workshop or registered for an event — paired with a customized landing page greeting them by name and thanking them for attending — continues to delight and convert.
Smart Content is a powerful resource for your marketing process
.
Using this HubSpot feature is a strategic way of getting the right content in front of the right person at the right time, but it's only as powerful as what you do with it. Get to know your buyer personas. Have a defined sales funnel and create offers that align with both your personas and their lifecycle stages. Including more data about your customers and evolving your content to appeal to each individual is key to increasing leads, conversions and sales.