5 Useful Ways Manufacturing Companies Can Get Creative with Content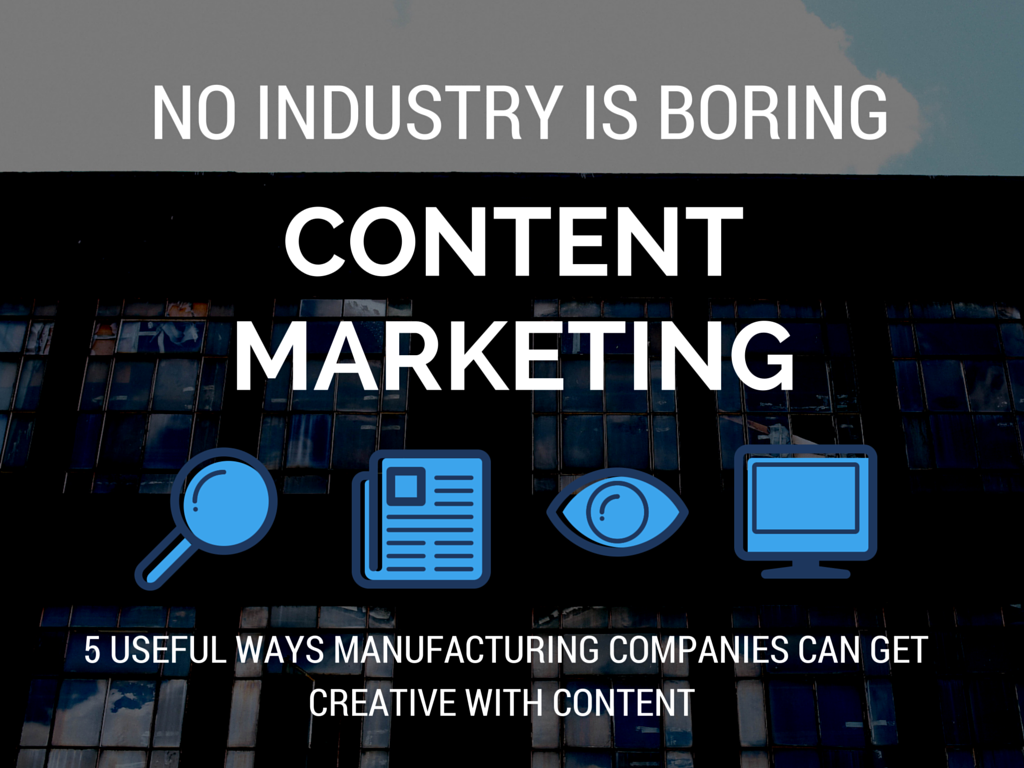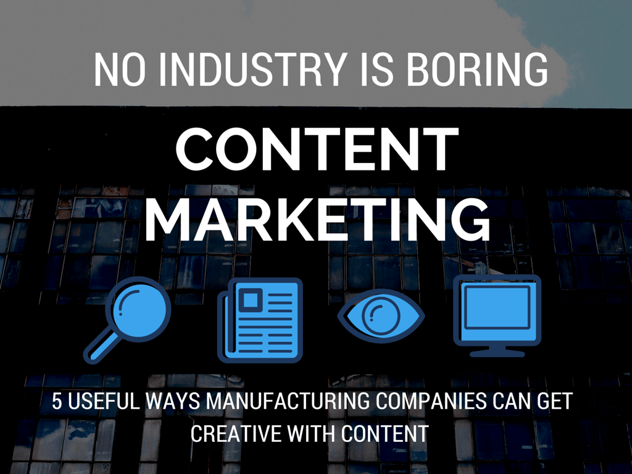 Digital marketing seems like an easy enough concept to grasp: publish content, get found. But if you want to succeed with today's savvier consumers, you can't just publish any old content. You must create content that is both shareable and extremely engaging. Doing so increases consumer awareness of your brand and ups the chances that your content will be seen by a larger, and more relevant, audience, which can lead to additional revenue. A focus on engaging content also cements your company as a creative thought leader—a reputation that can go a long way in the manufacturing industry where everyone wants to work with the best.
Below are 5 ways you can use your content to show what your company's all about and set yourself apart from the competition.
1. Create Video Content
You may think your company's manufacturing process is very exciting, but odds are good that reps from other businesses don't want to read a treatise on the intricacies of what your company does. A video can say a lot in a short period of time. Instead of merely telling people your company's products are remarkable, you can use a video to show exactly why your company is the leader in its field.


2. Go Behind the Scenes
At the end of the day, manufacturing companies are judged on their finished product. But there's nothing that says you can't roll the curtain back and show people exactly what goes into creating your goods. This is especially true for companies that manufacture products for industries, like healthcare, where quality is of utmost importance. Videos work the best for showcasing your manufacturing process, but you can also post compelling images of your process at work on channels like Instagram and Facebook.


3. Publish Blueprints
Infographics are among the most effective tools in the modern marketing toolbox. They combine facts, numbers and storytelling into an attractive, easily digestible visual image. Although manufacturing doesn't exactly lend itself to concepts that are easily understood by the public, you can still use this tactic to your advantage. A "Blueprint for Success" graphic, for example, can showcase the characteristics that make your company unique, while playing on the idea that a blueprint shows how something is constructed. You can even create different "blueprints" to call attention to your company's quality measures, safety precautions or charitable endeavors, among many other possibilities.
4. Think Smaller
You've undoubtedly seen an endless stream of motivational quotes on social media. You know people love to share them, and you might even (sometimes) enjoy reading them. But you might not be aware of how easy it is to publishing quotes of your own. A simple image containing an important quote from a blog you've written can be even more powerful than the blog itself. You can cull quotes from virtually any resource your company possesses—from employee handbooks to conversations with your CEO. These little nuggets of wisdom are very shareable, but, more importantly, they give people insight into what makes your company tick. And that's what makes them more likely to do business with you.


5. Case Studies
The words "case study" may make some people shudder with frightful recollections from their college days. But when it comes to marketing your business, a case study can be an effective way to advertise what you do best. Publishing case studies to your website that show how you've helped your clients or customers achieve their goals gives other businesses an idea of what they can expect when they partner up with your company. Since those organizations will be prominently featured in your case studies, this also provides a sure-fire way to get your content shared.


It's Time to Get Creative
Creativity is the bridge that links your content with the masses who are willing to share and engage with it. It's in your best interest to tap into the modern marketing ideology and try out concepts that are already being used brilliantly by companies around the world. There's a way to use content marketing to capitalize on the interesting aspects of any industry, and manufacturing is no exception. Try these ideas, and your content will become more shareable and engaging than it has ever been.