5 Good Pieces on Marketing Automation to Read This Month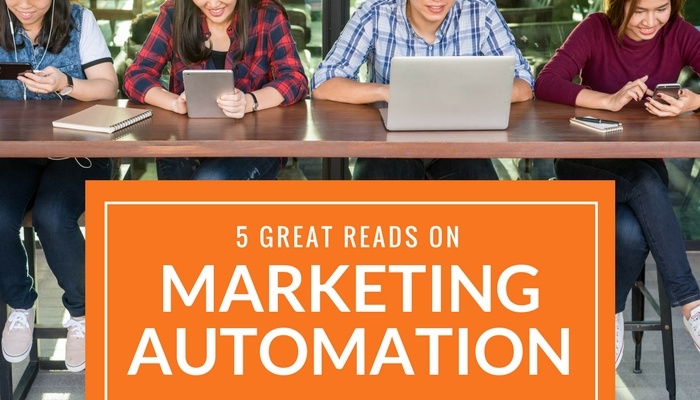 Over the course of a week, I can't tell you how many emails I get from blogs I've subscribed to. Not only do I get blog updates on content and inbound marketing, but I subscribe to a fair amount of blogs for my clients' industries. Needless to say, I get a lot of emails promoting new blogs, and I have every intention of reading them. I really do. Then work happens, and that email sits in my inbox so long it keeps getting pushed further and further down the page until I finally archive it because I'm tired of looking at the countless emails that are piling up.This vicious cycle of subscribe-and-archive isn't something you face only as a reader. You face it as a marketer. MailChimp research shows that Marketing and Advertising email benchmarks are 17.81 percent open rates and a 1.92 percent click rate. Those aren't bad stats by any means, but don't we all wish for higher open rates?
Producing must-read content is the first place to break the subscribe-and-archive cycle, but another step you can take is to help make your reader's life easier by corralling relevant content into one post to make. Creating a "best of" roundup for your readers allows them to stay up-to-date on topics to them without a lot of effort.
This week, we've gathered the best blogs and articles on marketing automation published so far this month to get you up to speed on what's happening in the marketing world.
If you need a reason to improve your email marketing automation tactics, Katherine Beaumont has a pretty good one: bulking up your email lists with subscribers who are only in it for your one-time special offers can have a serious impact on your email sending reputation.
Excerpt:
"If left unchecked, the negative engagement metrics of... 'ghost' users will impact your sender reputation in the eyes of ISPs. And if reputation dips low enough, it will even prevent active subscribers in your list from receiving your content in their inboxes."
Read More Here: https://blogs.oracle.com/marketingcloud/ghosts-of-past-email-signups-driving-down-inbox-placement
There's good news for all you marketing automation beginners: MailChimp is now offering users its triggered email tool for free. If you're looking for a low-stakes way to start experimenting with email automation, this tool offers everything you need to get started without making a major investment.
Excerpt:
"The automations include a series of emails that automatically welcome new subscribers, send AI-recommended products when a shopping cart is left with abandoned items, try to re-engage lapsed customers who haven't made a purchase in a while, or confirm orders. Users can also customize triggers and responding emails."
Read More Here: https://martechtoday.com/mailchimps-email-automations-now-free-197998
If you're struggling to get engagement from your automated emails, it might be time to take a page out of the social marketing handbook. Using tactics that are designed to make content eye-catching and shareable can help to improve your open rates and clicks.
Excerpt:
"Email marketing is tough. You have almost no time to grab your audience's attention with a subject line, and even if they do open — that's when the battle is just beginning.
For those who do open your email, you can't give them any reason to click the 'delete' button, and you have to pique their interest immediately."
Read More Here: http://sherpablog.marketingsherpa.com/email-marketing/social-tactics-for-enticing-email/
Marketers are only human, so that means we've all sent at least one or two emails that we immediately regretted. Maybe you sent it to the wrong person or realized it wasn't finished or spotted what seemed to you an egregious typo. Mistakes like these can be learning opportunities if you let them, and in this piece, Stefanie Flaxman of Copyblogger shares a copywriting lesson she learned from an email marketing fail.
Excerpt:
"The person who wrote the email didn't fill out that section of their template and forgot to delete the placeholder text. Although that's a forgivable mistake that any busy person could easily make, it communicates a bit of carelessness."
Read More Here: http://www.copyblogger.com/tattoo-copywriting/
We're not too proud to recommend our own stuff.
If you don't have enough time to read a full article, you might want to check out our new infographic that explores how B2B marketers can overcome bad marketing automation habits.
Excerpt: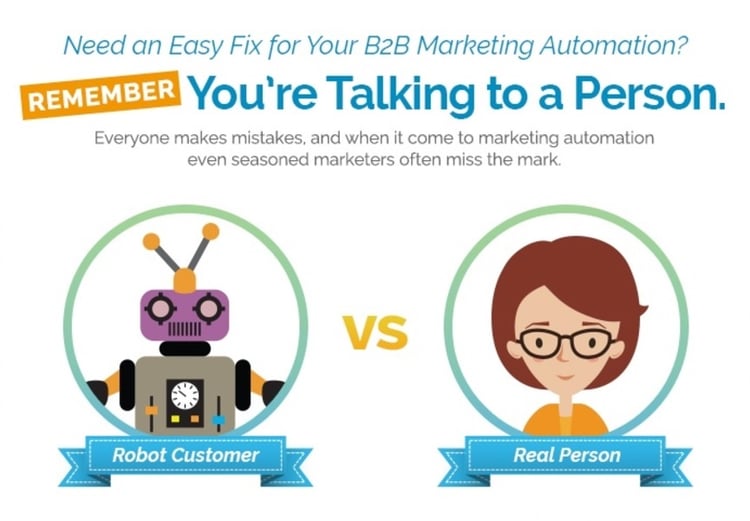 See More Here: https://blog.cleriti.com/easy-fix-for-b2b-marketing-automation
What Do You Think of Our Marketing Automation Roundup?
We're passionate about using marketing automation because, when done right, it's a win for the consumer and a win for the marketer. We're constantly on the lookout for articles, best practices and tips on how to use marketing automation effectively. If you've happened across a great piece, share it with us!