What to Do if Your Content Marketing Isn't Getting Results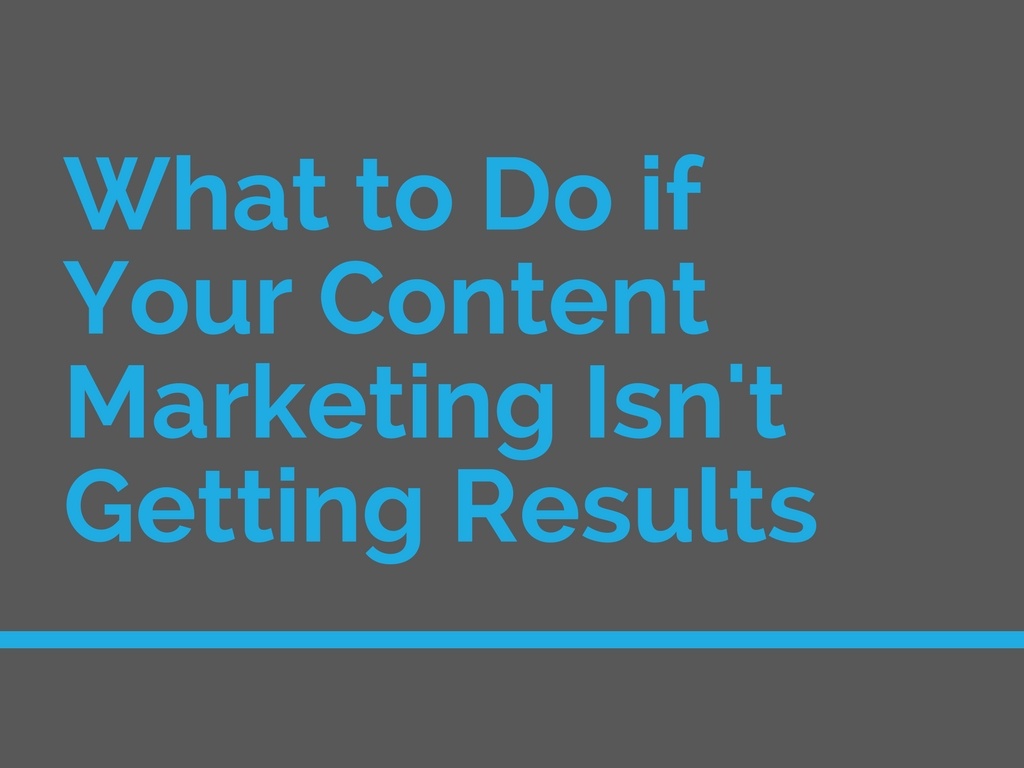 If there's one thing all marketing strategies have in common, it is the need to track the results of a campaign as it unfolds and make adjustments based on the results. Content marketing is no different. It's not a set-and-forget marketing strategy. While keeping your channels full of new and interesting content is essential, if you're not getting the content marketing results you were expecting, it's time to make a change. Here are a few tips to help you zero in on the problem — and then fix it.
Revisit the Buyer Persona
Everything starts with the Buyer Persona. This is the person who represents your best customer, the person who your content creators imagine they are speaking to when they get to work. If you're not getting good content marketing results, start with an in-depth review of your Buyer Persona:
Are you talking to your best customer?

You may have an idea in your head about who you want to be your best customer — and it's ok to target that person if you're trying to expand your customer base or are a startup — but content marketing works best when you target the person who is already online searching for solutions to a pain point. Take a second look through your existing roster and see who is engaged, who's lost interest and see if you need to refine your existing buyer persona or even create a new one.

Are you using the best keywords?

Choosing keywords

does not have to be tricky, but getting it right means understanding how your Buyer Persona thinks and speaks, and how she will search for solutions to your problems. If you are a financial software developer, "financial software" might seem like a simple, obvious keyword to go after. However, your best customer might be searching for "financial software for small businesses." Your shorter keyword is in there, but you're missing the opportunity to refine your targeting.

Are you publishing in the best spots to reach your audience?

This is two fold. Are you publishing your blog in a place your target audience would find it and when considering which social media networks to share and promote your content.

Publishing to the best blog platform:

many B2B professionals have industry leader websites they trust for information and news in the areas that matter to them. You may need to consider guest blogging, joining a news aggregate site or submitting an original blog to industry leader sites if that's an option.

Publishing on the best social media platforms:

Pinterest might seem like a great option for visual content, but it's not the best choice for B2B marketing. LinkedIn is consistently the

best choice for businesses

, with Facebook coming in second. If you are sponsoring native advertising, BuzzFeed gets tons of traffic. However, it's probably not the right kind of traffic for most businesses. Your resources are better spent somewhere with less traffic, but better targeting.
All of these tips come back to knowing who your best audience is, what they want or need, and where they are searching for answers.
Quality Check
Google has been very clear about their expectations of quality. If you're trying to get leads from search, it's important to remember that searchers are Google's customers before they become yours. Google's priority is to make their customers happy, and your quality content is how they will do it.
Even if you're trying to get inbound leads from referrals, social media, or other channels, people will simply respond better to content that is useful, informative, credible, and offers more than other sites. Of course, evaluating the quality of your own content can be tricky since no one likes to think their content is subpar. But as a writer, you've probably heard the phrase "kill your darlings." Try not to become too attached to your content, and consider an honest review from a trusted associate who might help you face the music. You might have to cull out work that doesn't fit the quality, tone, or overall goal of your marketing strategy.
Here are a few things to check:
Writing Quality

. Aside from excellent grammar, spelling, and punctuation, your writing needs to convey that you are the expert in your field. You must sound like a leader who is confident, knowledgeable, and leading the conversation in your industry.
Added value

. No matter how interesting or compelling your content is, if your Buyer Persona cannot use it, it will not help you meet your goals. Make sure you are providing something valuable to those who take the time to interact with your content.
Sales vs. Marketing.

Everyone can spot a commercial from a mile away. Content marketing is not thinly veiled ads for your products and services. The idea is to speak to your Buyer Persona's problems, gain their trust, and then show them how you can solve their problems. Stay away from the hard sell and the soft sell. You're

selling

anything.
Goal-oriented

. If your content meets the above criteria, but it's still not delivering the results you want, make sure it is there to support a specific, measurable goal. You may have great ideas for content, but if they are all over the place, then you're not really going after any results consistently enough to see a positive outcome. Jot down unrelated ideas to use later, and stay the course for a specific campaign.
Change the Format
Content marketing does not always have to mean blogging. Don't forget about the variety of mediums out there including slide decks, videos, podcasts, infographics, and webinars. If you're sticking to written content, consider all the options available besides a blog or article. For example, people love participating in quizzes and polls, and photo-filled listicles and Top Ten lists do well, too. Your audience may respond better to a more visual content media than an in-depth blog.
Switching up formats doesn't have to mean reinventing your content, either. In most cases, your content can be repurposed and repackaged to fit a variety of formats. For example, if you have a statistics-filled blog post, create an infographic that makes the digestion of all those numbers a little easier. Or, pair each statistic up with an in-depth graphic and create a slide deck that viewers can flip through at their own pace. If you have a blog or an article that takes a deep look at a topic, create a podcast that people can listen to during their commute or workout.
People enjoy consuming content in a variety of ways. When you offer several different options for interacting with your content, then you'll be more likely to get better results as your audience chooses what work best for them.
Testing, Testing
Ok, by now you're probably thinking that this is a really long list of things to look at when you're not seeing the content marketing results you expected. If nothing is standing out as a glaring mistake in your strategy, how can you know what to change? How will you know which changes were the right ones? The answer, of course, is testing!
After taking a close look at your current content and strategy, identify what you think the top things to change should be. Then, make one alteration at a time and measure the results to see if there is any improvement. For some fast feedback, try doing an A/B test on a channel that offers immediate feedback. For example, a pay-per-click campaign on LinkedIn or Facebook is an easy way to get feedback on tiny changes almost instantly.
For longer-term feedback, in addition to tweaking the items above, think about publication timing — on your blog, your social promotion schedule, and titles and snippets used for promotion. Testing lets you see what is working and what isn't — as long as you don't make too many changes at once so you can identify which adjustment was the right move.
Rinse and Repeat
Rinse and repeat: another common phrase you will find among those seeking better content marketing results. That's because tracking results and making changes is never a once-and-done activity. As your audience base expands and changes, so will their needs and preferences. Staying on top of the needs of your audience will not only help you produce better content, but it will also help you keep your Buyer Persona refined and up-to-date so all your marketing strategies are more successful.