2 Marketing Tools and Tactics Your Team Needs More Training On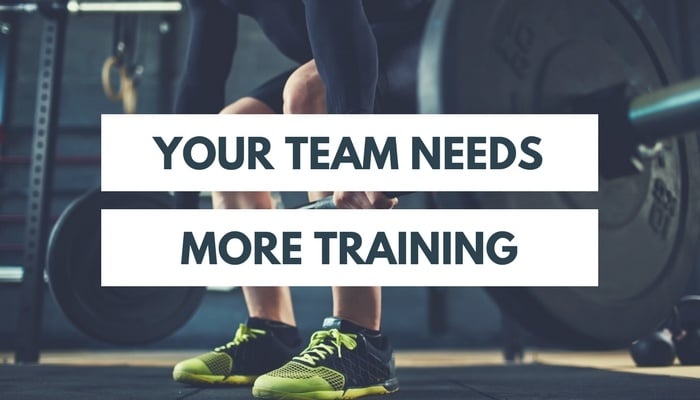 With an economy now so dependent on digital channels, what marketing tools and tactics are savvy companies using to build their brands and optimize sales performance?
Over the past decade, traditional channels like direct mail, billboards, point of purchase marketing and broadcast media placements have become more data-driven as both end consumers and B2B customers have shifted toward online shopping and purchasing. And first-generation online marketing channels like web banners and email lists have yielded efficacy to more analytics-heavy search engine optimization (SEO), inbound and story-based social media marketing.
Organizations that have been slow to adapt to consumers' expanding tastes for online engagement (and use online data to inform their marketing strategy) have suddenly found themselves in a lurch. Their voices are muted in a digital cacophony.
If your brand's performance is lagging, it's not too late to catch up. But your team may need more training on the tools today's successful marketers are using to dominate the field. Let's take a look at 2 of them.
EMAIL
Isn't email marketing dead?
No. Not at all. But for companies that are making a poor go of it, it might as well be.
Email marketing is attractive from the standpoint that it's quick, scalable and, if your organization has a decent data pool from which it can draw, can do a fairly good job of reaching consumers who have already indicated they want you to reach them.
But consumers are savvy to come-ons. For email marketing to be effective, companies can't simply apply decades-old marketing tactics forward.
For email to be a viable channel, your content must generate immediate interest. It has to make a consumer want to click it open. And, once a person does so, the piece has to hold attention and direct him or her to a clearly defined call to action (CTA) that triggers a predetermined workflow.
Why are so many marketing departments creating ineffective email content?
Because, too often, they rush content.
They try to honor 11th hour marketing requests from the sales team. They don't allow reliable consumer data to drive the content or, worse, build a campaign with no hard data at all. They don't allow the creative team to design and implement truly arresting pieces; instead, they opt for the lowest common denominator.
Your team needs to be trained not to do any of that. That takes discipline.
For your content to be viable, it must be carefully planned. It can't be thrown together in an all-hands-on-deck brainstorm session or batted endlessly about in an internal email chain.
Concepts need to be based on segmented consumer data, not assumptions. Wholesale guesswork is self-defeating — and an unacceptable time sink.
Email campaigns need to be integrated with your other channels: social, inbound, portal, broadcast, POS and direct (and probably in that order to where the consumer is on the marketing and sales funnel). Individual mailings must be crafted and honed by an experienced copy, design and coding team — not by a harried $15/hour sales coordinator in a beige cubicle on some floor somewhere.
Marketing directors who want their email efforts to be effective need to feel empowered to turn down last second sales asks. They need to build a deep data pool. And they need to trust their creatives to do creative things.
Inbox headers have to build mystery for the consumer — think of them as your virtual envelopes. Description lines need to deepen the sense of mystery and be optimized for length, especially now that mobile has become the predominant method by which consumers access their email.
Inside, copy has to snap on the screen. It should complement the design, not dictate it. Images should draw the consumer in and work seamlessly in tandem with the copy to convey the emotion you know the consumer needs to feel in order for him or her to do what you want him or her to do.
Like the lead in a news story, the CTA should never be buried. And, wherever possible, automate.
If you can train your team to do all of that, your email marketing efforts will yield value. If you can't, your marketing department is setting itself up for failure.
SOCIAL MEDIA
Why are so many companies doing social poorly?
Tough question. Here's the tough love answer: adaptation is uncomfortable. But when it comes to fielding an effective social game, split-second adaption is mission critical.
Let's be blunt: the social environment moves at the speed of youth.
Where 18-to-early-20-somethings go, the late-20-somethings and 30-somethings-with-kids follow, and so on. Trends trickle up. Eventually, the middle-aged and seniors among us catch on; typically, after all those influential young people (and their disposable incomes) have moved on.
If you want to be on its cutting edge, you need to be lending your brand's voice to the platforms the kids are using at the moment, with pathos and social queues they're responding to in the moment.
Getting over the relevance hump.
Many companies add social media channels (or abandon others) long after peak relevance has been achieved. For example, if you're just now developing your brand's Facebook or Twitter voice, then congratulations, dinosaur: you're well on your way to brand extinction.
Marketers who are fully leveraging the potential of social media right now are already heavily engaged with app-based, visual channels like Instagram and YouTube.
They're creating content that drives traffic from those channels back to Facebook and, from there, to their online portals and brick-and-mortar locations. And that content has to constantly flow or audience size languishes.
Embedded videos are particularly en vogue: fully 1/3 of all online activity today is attributable to video watching. Frankly, even marketers who are spending most of their social dollars on YouTube and Instagram are somewhat behind the youth curve. As has been well-documented, Snapchat is Generation Z's darling.
What marketing tactics and tools should you be training your team to deal with for tomorrow's social media environment?
That's the real question at hand. And you need to answer it. Before your competitors do.