How to Set a Service Level Agreement Between Marketing and Sales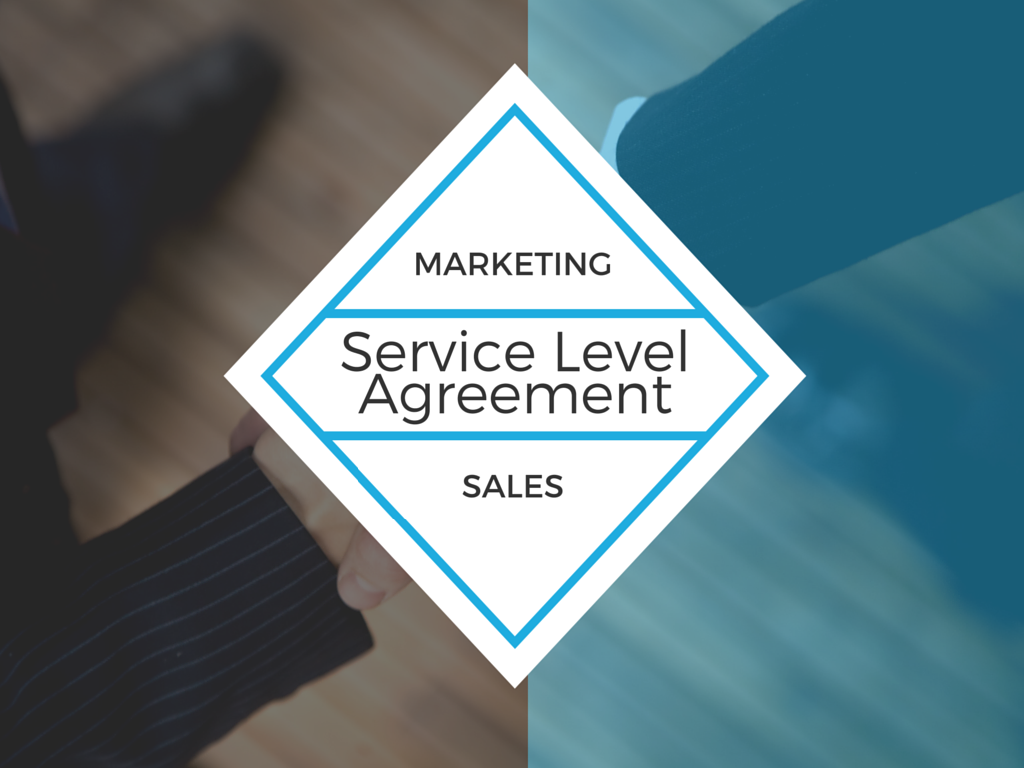 The pressure you feel most of the time in your marketing or sales career is from facing the unknown. If you are working really hard, passionate about your customer service, marketing, sales or business development, take a moment to answer the following yes or no questions:
Do you know your revenue and growth goals for the year?

Do you know the calculated lifetime value of a customer?
Do you know how much revenue will come from existing clients?

Do you know how much revenue needs to come from new business?

Do you know exactly how many inbound leads you need to get there?
Even with the most advanced sales and marketing technology, most of us are not able to answer all of these questions, predict the future or properly prepare for growth (and that's okay). I myself was not able to answer these questions until I made a new process along with a completely solo effort to spearhead marketing and sales with the "do it myself to prove it" and teach others later approach our business has taken.
Sales and Marketing Both Work Really Hard

Growing a business is a rollercoaster of managing expectations both internally and externally. Growth may come from fear and the pressure of numbers investors throw out there that burns out some of the best talent. Other times, companies grow from a great market fit, timing and really knowing what their customers need.
When we are working towards a number, we are doomed to fail. When we work towards an experience, it's something we can get on board with and believe in. Others (and the numbers) will follow. No matter what caused growth for your business in the past, growth in the future starts with aligning your marketing and sales teams to position your company for growth.
As a marketer, you're worried about things like...
Buyer Personas

Website Design

SEO
Content Marketing
Social Media
Lead Generation
High Volume of Production Tasks
Evaluating Constant New Marketing Trends
And sales is worried about things like...
Prospecting

Outbound Cold Calls and Emails

Getting Meetings Scheduled

Networking

Reaching Decision Makers
Preparing Proposals

Meeting Quotas
Marketing is working forward, and mostly online, creating an experience that will achieve the goal. Sales is working backwards from the goal, mostly offline, and navigating the real-time complexities of today's buyers and decision making processes to hit the goal. It's about time for marketing and sales meet in the middle, utilize each others strengths and continue reading to find out exactly how.


What is a Service Level Agreement?

A service level agreement is a document that provides information on how customers are acquired and exactly how they are serviced. The most established and successful companies operate their entire business around the terms documented in service level agreements.
The remainder of this post is to help you document a service level agreement between marketing and sales with four clearly defined sections.
Section 1: Marketing and Sales Must Agree on Target Customers and What Platform to House Information In

Marketing and Sales Define: Select the platform where you will house information.
This includes information on the entire buyer's journey, website visits, conversions, activities, revisits, follow up calls, emails, meetings, all opportunities, the overall customer value and lifecycle.
Marketing and Sales Define: Agree on who your ideal customers are.
Of course we all want to get straight to the decision maker. Today, decisions are rarely made by one individual or in a vacuum. Get into details about your happiest customers and the specific people that made the decision to work with you, what you did for them and who else is similar to them. Use your best and most loyal customer as a starting ground to build a good, detailed, solid buyer persona before you build 10.


Section 2: Marketing Will Set the Framework for Demand Generation
Marketing Defines: I'm going to generate leads by doing x.
Clearly define what efforts you will put forward to generate leads for your sales team, and make sure you stay completely focused on those. Are you going to generate majority of your leads online from your website? From events? Customer referrals? Inbound marketing campaigns? Make sure your sales team clearly knows where the leads you are going to generate come from.
Marketing Defines: We will discover x information from prospects.
Define what information you need to uncover from prospects before they can be qualified or sent to the sales team. As we covered in our latest marketing and sales alignment resource, someone filling out a form is not enough to make them sales-ready. What makes a prospect a passive observer vs. a warm, engaged, interested lead? Use smart forms and queued questions in HubSpot to do progressive profiling on your leads. On your initial form and first conversion, you should ask no more than 4-5 questions, leaving information like phone numbers, etc. either optional or out.
Marketing Defines: I'm going to qualify leads by X factors.
Put it down on paper. Less than half of all companies have an established definition of what makes a lead qualified. It can be things like the number of visits, amount of time they spent on your website, the number of things they've downloaded, how long they've been a lead, the revenue of the company, location, role of the contact, a certain challenge they are having, the lead source, etc.
If you're a HubSpot customer, use lead scoring which is found in your Contact Settings to add both positive and negative attributes. Remember to not ask too many questions to qualify leads upfront, as that is both obvious and a poor experience for the person on the other end.
Marketing Defines: I'm going to hand leads to sales in X way.
When a lead is qualified for your sales team, how will you make sure they follow up quickly and with the right message? When handing off each lead, help sales understand how to best follow up with the lead and give them a set of tasks to complete for each lead. Make it easy for them to prioritize and work through follow ups.


Section 3: Sales Will Set the Framework for Nurturing and the Stages of a Deal

Sales Defines: I'm going to follow up with my assigned leads with X attempts/sequence.
In a central and easy to access location, marketing should provide both talking points and follow up examples for each resource, or if they are savvy, automate this with internal workflows and notifications. With sales properly equipped, they will send the information that best represents your company and know when a prospect they've reached out to comes back to the website, what they are looking at or when they open an email so they can capitalize on these engagements.
If a lead goes cold and does not engage with anything when the follow up is complete, sales can set tasks for these leads for later and count on marketing sending them new resources when they are available to re-engage these contacts. Once a lead is sales qualified, it is to stay with the sales team for as long as it is sales qualified based on your scoring methods. Sales is 100% in charge of nurturing and keeping track of these qualified leads. If they go cold and completely ignore every follow-up attempt made by your sales team, this is where automation comes in handy. Your scoring system should see this as a negative attribute and revert them back to marketing qualified.
Sales Defines: Our sales will be measured in X stages.
List the exact criteria in which a sales team will be held accountable. Set the tone for the entire sales experience and take the heat off both marketing and sales. With the follow-up tactics being carried out and a way to know the results of these interactions, your pipeline will drastically change and be a long-term, reliable growth solution for your company. For instance, when sales has a meeting with a prospect, if that person is qualified to buy, create a deal and see it through each and every stage of the process.
An example of sales stages you will commonly see are similar to:
Introduction Meeting
Prospect Qualified to Buy
Solutions Presentation
Proposal Sent
Closed Won
Closed Lost
Renewal
Sales Defines: I'm going to nurture and progress the relationship by doing X.
No two leads are identical, and you'll find different information online about each and every prospect. Branded content is evergreen, and should be organized and used in that way. In order for marketing to deliver the right leads that sales is looking for, both teams must understand the needs and timing to provide the correct resources and information to each other.
Marketing should provide a central location of categorized content for the sales team to access and use. Sales should also give marketing ideas for new content that line up with the questions they are most frequently asked.
Sales Defines: We are going to propose doing business by doing X.
All handoffs are very important and most often where miscommunication happens. How marketing hands leads to sales, and how sales hands new clients to service, and what both teams learn from the entire customer's experience are where we all need to focus.
Sales should know exactly what it's getting from marketing, and marketing should know exactly what sales is doing to close business from leads provided by the marketing team. The business proposal should be created by both marketing and sales that sets expectations clearly and the service team can legitimately fulfill.


Section 4: Measuring the Success and Activities of Marketing and Sales

Marketing and Sales Define: We'll close the loop, unify our reporting and meet every X.
We will report, meet regularly, measure our efforts to results and improve our business together. Did you know that HubSpot customers with service level agreements in place are 34% more likely to see an annual increase in their sales and ROI than companies without? Now you do.
When Things Are Going Wrong, Review Your Service Level Agreement
Odds are, the lowest performers and low hanging fruit in your organization have taken a misstep from the original plan or you lack a process altogether. When sales and marketing are not aligned, it's your customers that are confused, having a poor experience and missing out on a solution they are actively searching for. There are many benefits to setting a service level agreement, which include a better lead follow up, useful marketing collateral, more insights on growth, a better career trajectory for you as a sales or marketing aficionado and most importantly, a way more pleasant experience for your customers.