Dish Your Dirt: Favorite Super Bowl XLIX Ads, Dadvertising, Millennials and More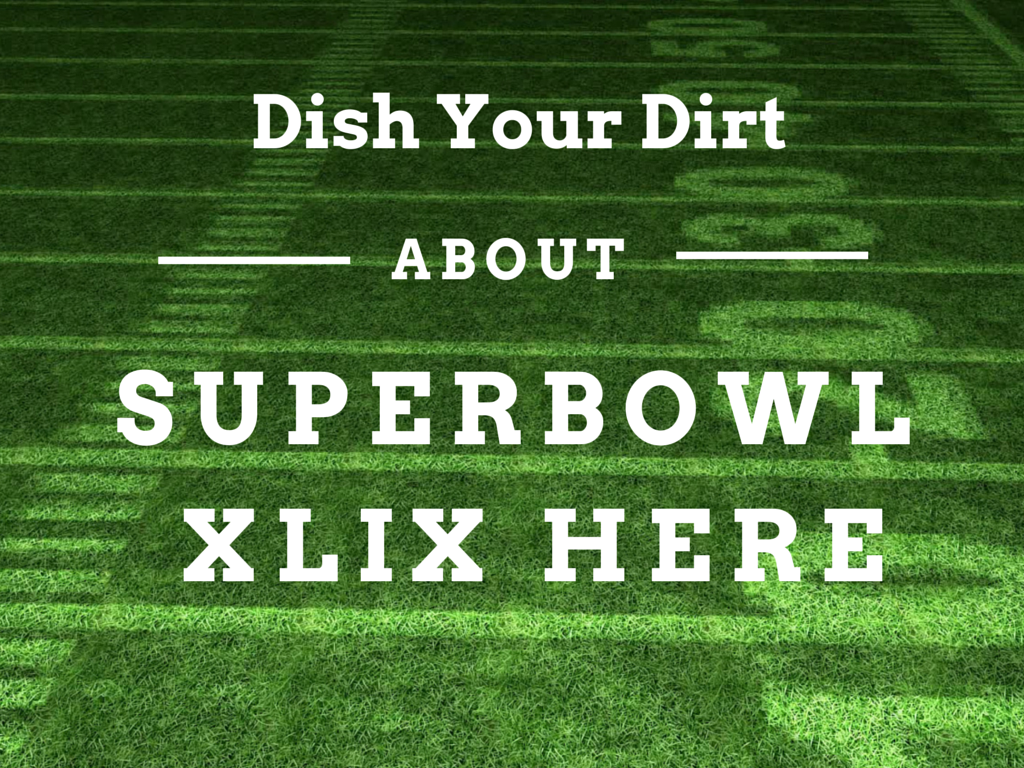 Warning to major brands! Millennial thoughts are inside! We get it. Really, we do. Your attention span, just like ours, is short - so let's cut straight to the conclusions. It was obvious to most of us that Super Bowl XLIX may be the first year that the exiting game play surpassed the oh-so predictable advertising we witnessed. The top two conclusions we came to are:
Millennials ignore Advertising (source), oh - they also dislike McDonalds and Budweiser (ouch)
Nissan's "Dadvertising" rocked- an example of story making vs. storytelling at the perfect time and place.
It might be the day after tomorrow since the Super Bowl was relevant, however, we hope you continue reading to see a Cleriti team chat on all things Super Bowl XLIX Advertising. Start your day with something fun!
Alicia Inman
Raise your hand if you watched the superbowl.
Or, as I like to call it, the Superb Owl
But back to my line of questioning: What was your favorite commercial and why?
Emily Inman
Esurance
I always go for the funny ones
Jami Edgington
mine was the one that didn't air: http://office.worthytales.net/banned-budweiser-commercial-hilarious-every-office-needs/
Matthew Barthel
My favorite commercial was the mountain dew kick start commercial because of the dancing dog
Aly Schweigert
I like the BMW i3 commercial "Newfangled Idea" with Katie Couric and Bryant Gumbel. The callback to their confusion over 'that internet thing' was great -- it was funny and subtle, but classy
Emily Inman
(Esurance was the Walter White one, btw)
Jami Edgington
Aly, that was my second fav!
Aly Schweigert
Also, I probably shouldn't admit this, but I thought the Brady Bunch one was funny.
Alicia Inman
I just watched that Bud Light one -- hilarious!
We should have a swear jar.
Emily Inman
We did, You guys never paid in
It's still sitting on the window sill
Alicia Inman
Oh that's right. But it was like $1 per swear, wasn't it? That's too much.
Alicia Inman
I feel like I didn't have a favorite this year. Some I laughed at, but it's not like any of them stuck with me. Except for that stupid lost puppy commercial. Lost/sad cute animals make me cry.
Aly Schweigert
And the slowed-down version of "500 Miles." I also laughed at Newcastle, Band of Brands
Alicia Inman
Back to that BMW commercial, did you see that Katie Couric admitted she drove an Audi?
And Audi had an a+ response tweet?
Another satisfied customer. ¯\_(ツ)_/¯ http://t.co/HnVpPIMusQ #Audi pic.twitter.com/avc975SqHu

— Audi (@Audi) February 1, 2015
Aly Schweigert
Haha, her recovery line is just beautiful though: "[Couric's husband] John actually has a BMW, but I'm scared to drive it because it's so nice."
Alicia Inman
Gina, Ken, Andrew - what were your favorite commercials and why?
Daniel, you too.
Andrew Rogers
My favorite was also banned :-( https://www.youtube.com/watch?v=blDezzNEX3E
Alicia Inman
Nooooo! More lost puppies!!!
Gina Yeagley
The Brady Bunch one was good - I have to admit I am a little guilty to watching many bad (yet awesome) Danny Trejo films. Talk about range - from Breaking Bad to the Brady Bunch.
The lost puppy commercial was awesome too. Who doesn't love puppies? And odd animal friend combinations. However, who here has ever even drank an actual Budweiser beer?
Aly Schweigert
Me. I did it. I don't want to admit it, but it was me.
Alicia Inman
I have had an actual Budweiser, but only so I could get the "All-American" badge on untappd.
Daniel Tilmes
Not a funny one but I liked the 100 year old dodge commercial. i mainly just thought it was a great commercial
Aly Schweigert
Feisty older Americans were a good touch, I agree
Alicia Inman
Ohhh I did think that one was sweet. I had no idea it was going to be a car ad
Gina Yeagley
The chevy commercial was a little off - you know you want a truck. Actually, no, Chevy, I don't.
Aly Schweigert
....that one just stretched the limits for what people assume about someone based on looks alone. Not a fan.
Gina Yeagley
Have you seen the USA Today Ad Meter? http://admeter.usatoday.com/results/2015
Alicia Inman
I do NOT understand the "Pay with Lovin'" campaign. What is the goal here?
Aly Schweigert
You had mentioned millennials earlier, and I think you may have nailed it
Emily Inman
They're desperately trying every way they can to be relevant again, and I think Aly's right with the millennial thing. According to most reports, a generation very much concerned with social responsibility and things like that. I can kind of see how that would translate into that Pay with Lovin' in a strange circuitous way.
Gina Yeagley
How relevant or appealing is it with this many thought out and documented rules to the campaign? http://www.mcdonalds.com/pwlrules/
Alicia Inman
Lol, yeah, I can see how they got there, but I don't think they thought through the implications.
Emily Inman
They didn't share that on the commercial though. And who reads the terms and services?
Alicia Inman
Or why millennials don't go there anymore in the first place
Emily Inman
So I mean, the initial effect is still there. I suppose. I feel like whoever is guiding their marketing strategy only knows about his audience from what he's learned in books. I mean have you seen the weird Classic Chicken sandwich commercial? About how you like it because it's not new? I feel like the man behind the curtain is going "Millennials! Hipsters! They love old things! This is perfect!"
Gina Yeagley
I agree with you there, the ads in general this year all had a dark and see through theme trying to remind us we only have a limited amount of time on earth left so buy stuff
Aly Schweigert
And that, if you want to have sex, you need a pickup truck (or, in Pierce Brosnan's case, a Kia)
Alicia Inman
Yeah, there were a lot of heart-tugging ones this year. I suppose it's brands' attempt at "authenticity"
Which they've all been told ad nauseum they must attain
Emily Inman
But have no idea what that means, so invariably the go with "gritty"
Gina Yeagley
@Aly - "Dadvertising"
Emily Inman
or the heart-string approach
Aly Schweigert
OMG, Gina, yes. But you know what was kinda cool? The ad companies and creatives that made the Nissan commercial were tweeting about their dads and how they inspired them, and that was real and sweet.
To see the accounts guy tear up online that his dad wasn't there to see his commercial - and I'm pretty sure that wasn't part of the campaign - but showed that the Dadvertising impacted the creatives who made it.
This is where it all began. Will never forget the moment when my dad gave me my first guitar #withdad pic.twitter.com/pqBchL1hb8

— Maroon 5 (@maroon5) February 2, 2015
Gina Yeagley
Absolutely - that is a great instance of where an ad worked and inspired to both be more and appreciate more - there was a lot going on social at the same time from celebrities and people sharing inspiring stories about their Dads. I saw so many great tweets under #withdad. It gave people a chance to contribute, not just the brand "telling us"
Emily Inman
That's actually a really interesting point. Branding experts have been hammering away at the difference between storytelling and story making.
I feel like that could actually work for us now
Aly Schweigert
....especially with Millennials.
Gina Yeagley
It's the key difference between broadcasting and networking
Aly Schweigert
Getting people to share their story is important. That's why people love the new Budweiser commercials...It's a story about how the Clydsdales teamed up to help their buddy. And it's a continuing story
Gina Yeagley
And the story is kept in tact to the point where their audience can relate to it year after year after year.
Aly Schweigert
Bingo! I would almost be disappointed if we don't get a puppy update next year (a pup-date)
Gina Yeagley
Even if I don't love their beer, I recognize the excellent branding.
Alicia Inman
Agree. Aside from that craft beer dissing one. You know they called out breweries who make "Pumpkin Peach" beers? And just last week, they bought a brewery that makes exactly that product - how's that for irony??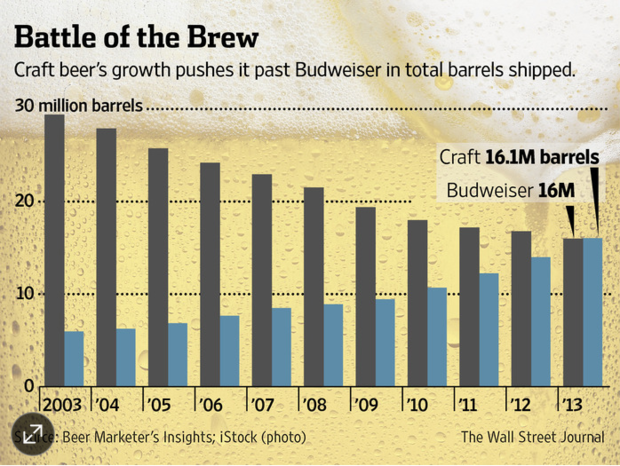 Gina Yeagley
It was a very contradicting ad, we just talked about letting people make the story and story making vs. storytelling. The tactic or angle might have been to make people angry and call them out for it. "Hey guys, don't ever forget about me. I inspired you to drink beer and now you've found ways to make it your own." As they say in public relations, no publicity is bad publicity It was a way to put themselves on the trends radar. Craft beer surpassed their domestic beer sales in the USA in late 2014.
Alicia Inman
I don't think the ad was aimed at the craft beer drinking demographic. I think it was aimed at those that think craft beer is prissy stuff - to reinforce their decision to drink Bud and stop the hemhorraging to craft.
Gina Yeagley
2015: The year of the Budweiser A/B testing
End of Chat
By the way - we're listening. Join our conversation and keep it going in the comments below!