A Customer-Centric Approach to Redesigning Your Website Copy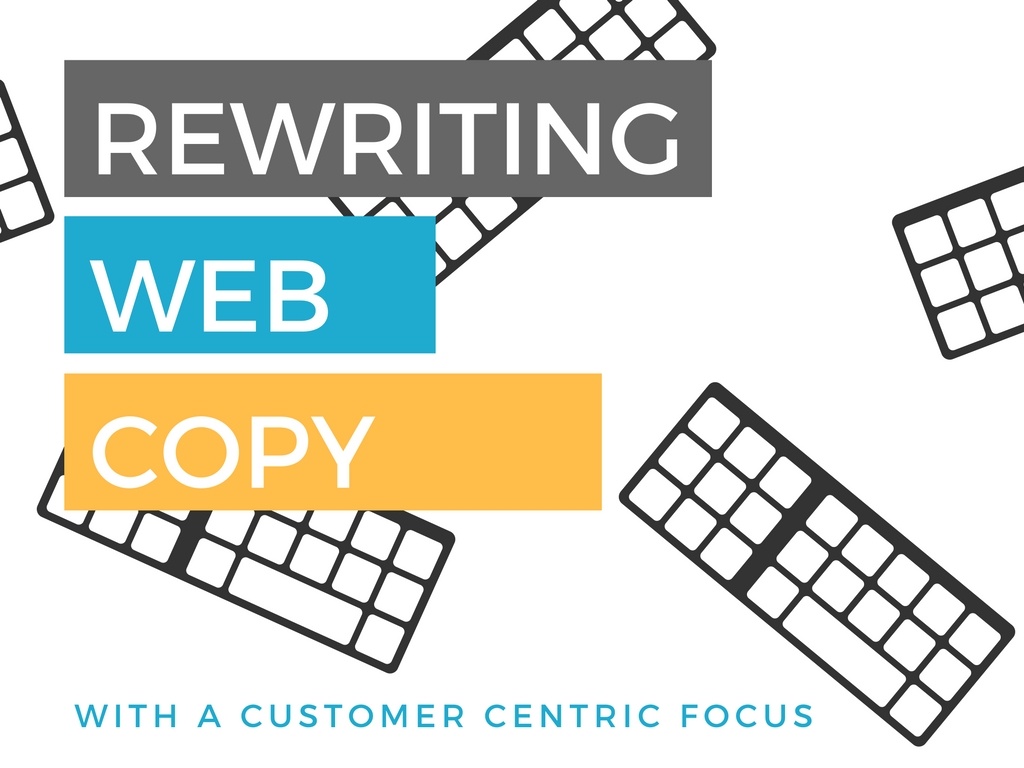 At its core, marketing has always been about self-promotion. Companies want to show that they're the best in the industry, so they develop messaging and campaigns that help set their products and services apart from the competition. However, the tide is turning. It's not enough for a company to merely boast about its finest attributes. There's an additional piece in marketing you need to consider, and it's something that you'll have to incorporate throughout your next website redesign process: being customer-centric.
Why Customer-Centric Works
While your ultimate goal in marketing is still to convince customers that your company is the top option in your industry, your new goal is to be the best in a new metric. Specifically, your mission is to present your company as the best solution for the individual needs of the person that's viewing your website.
The term "best" is relative. Each person has different feelings about the world around them, relative to their own situations and beliefs. A customer-centric approach means making sure your company's message meets all of the various needs of the people who will be buying from you. And that goes well beyond having a product that works.
Implementing a customer-centric approach in your website redesign process means being likeable, transparent and empathetic. It means listening to what your customers have to say. It means giving people what they want before they even think to ask for it. Most of all, it means doing what all marketers claim to do, but which very few actually follow through with: putting the customer first.
Focusing on Your Audience
There's a fine line between being customer-centric and blatantly sucking up to your customers. You definitely don't want to do the latter. But there are several ways you can let people know you understand them without beating them over the head about it.
Understand Pain Points
One of the key elements of successful marketing copy is the suggestion that you empathize with — and can resolve — the customer's pain points. That means you know what led a given customer to seek you out in the first place, and you have the ability to steer them towards the solution your company provides. If you don't know these pain points, do some heavy research on your buyer persona. You can also issue a survey to get insights on why your customers chose your brand.
Simplify Your Message
Your company's website is a great place for you to demonstrate your expertise in a given area. But it can sometimes be overwhelming for visitors to see an endless stream of facts, figures and industry jargon.
Take a step back and identify what visitors actually want to read on your website.
Short blogs, infographics and even videos are great ways to say a lot without demanding too much of the viewer's time. If your industry calls for it, consider writing with a more informal voice that lets readers know you're just like them.
Focus on Benefits
One of the best ways to show your audience you understand their pain points in a simple way is to make your copy benefits-focused. That way, your website visitors will quickly and easily realize your company is dedicated to meeting their needs. And, you get to position your product as a solution to their problems instead of just talking about it to talk about it.
Be Yourself
It might seem counter-intuitive to talk about yourself and your company when you're trying to make your copy more customer-centric. But letting your guard down and allowing people to see behind the curtain can do a lot to make them feel like they're a part of your organization.
Although your audience doesn't necessarily care about every small decision you have to make, they most likely care about how your company got started. They want to know what drives your brand's culture, and they want to know that the people who work there care about customers. A friendly "Who We Are" page can do the trick.
You can implement these ideas much easier than you might think. Let's use your website's blog as an example. Instead of issuing yet another soulless post about an industry topic, go with a personal story of what made you (or your company's owner) take an interest in your industry. Highlight the work of individual employees on a regular basis. Think outside of the box so your audience knows there are real people behind your business.
These personal stories seemingly put the focus on the wrong side of the equation, but they actually help you build stronger, more personal relationships with your customers and prospects. They make your company seem like it's run by a genuine group of people, a brand they can form a connection with. Most of all, it humanizes the company to the point that customers truly believe they're understood. And that's because they are understood.
Start Making Moves
With more customer-centric website copy, you can help potential customers find the solutions they need and feel more confident about making purchases with your brand. Even if you're not ready to embark on a full-on website redesign process, it's a great idea to start moving towards a customer-centric model of communication. Understanding what makes your customers tick is the most important part of marketing. Combining customer-focused copy with a little bit of your personality and company culture is a sure-fire way to persuade customers to see you in a whole new light.