7 Website Trends Predictions for 2015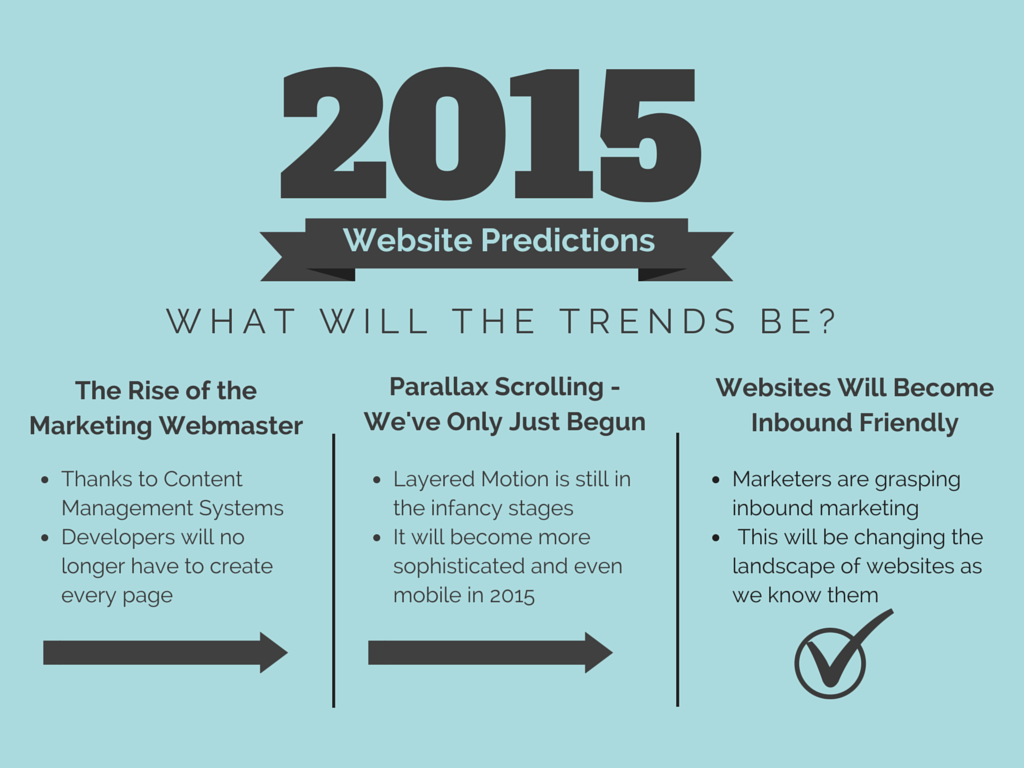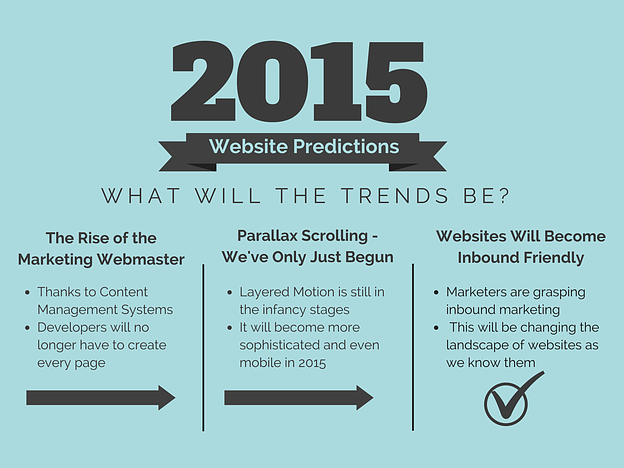 Every new year brings forecasting and predicting of the events to unfold. Peoples try their best to foresee the weather, stocks, business plans, new advances in science, sporting outcomes, and the list goes on. One of the most important, in my opinion, areas to focus for your business is the website.

Why put such a strong emphasis on your website? Simply put its the most cost effective sales tool you own! Would you send your sales rep out wearing clothes from the year 1985...I think not. So take some time to review your website and see if it stacks up to modern website trends. Continue reading to see 7 website trends that we can predict will rule 2015!
1. More CSS Driven Websites
Many times websites are designed by graphic artist. This often times results in beautiful graphic image heavy designs. Websites built with lots of image elements causes the site to load more slowly. Websites can have much faster load times by utilizing CSS (Cascading Style Sheets) which utilizes simpler designs rather than complicated integrated design elements. Have a look at http://getbootstrap.com
Notice how the designers utilized simple, clean, crisp, and defined areas without using images. The background is a gradient using CSS3. The minimalist design helps put your content front and center. After all the main reason people come to your site is to read your amazing content.


2. Responsive is a Standard
If you don't know what responsive design is read this fantastic article by our very own Daniel Tilmes "Google's Mobile Friendly Label Rewards Mobile Adaptive Sites". We all want decision makers reading our content and falling in love with our creative solutions to their complex problems. Chances are these decision makers are busy on the go folks. That means they are viewing your site on their desktop, tablet, and phone...possibly all at the same time. You'll want to make sure that your website looks great on all devices to ensure that your content is represented properly even on small screens.


3. Think Mobile First but Not Mobile Only
Responsive website design uses the slogan "Think mobile first". While this is true we can't forget about our good ol' buddy the desktop. Mobile phones and tablets are good but desktops still dominate commercial browsing. Expect to see drastic differences between desktop sites and their mobile counterparts. With more screen real estate designers will be able to utilize the wide open spaces to enhance the users experience. In the same manner designers and marketers can work together to showcase the most important information for the users.

4. Parallax...It's Only Just Begun
Parallax scrolling involves the background moving at a different rate than the foreground creating a 3D effect. Many people like this effect because it creates a dramatic impact for the user. Parallax (or layered motion) is currently in it's infancy so there are errors when designers or coders implement it. In 2015 parallax will become more sophisticated. I believe we will start seeing parallax gain popularity and even start seeing it on mobile devices.


5. Inbound Rules
Inbound will rule the web. Marketers are becoming more educated about the inbound marketing methodology and finding ways to get their team on board with inbound. I won't spend a lot of time on this matter as you can learn more here.


6. Wordpress Losing Popularity
Wordpress grew in popularity rapidly due to it's ease of use. More than 20% of websites are currently powered by Wordpress. The downside to this level is popularity is that it's a hackers playground. Wordpress isn't safe enough for major corporations. In 2015 expect to hear about many companies moving from Wordpress to more secure proprietary systems. One of the benefits of HubSpot (where host and manage the Cleriti website) is it's dedication to security of all sites...and the best part is you don't have to lift a finger to get a super secure website.


7. Marketers Becoming Webmasters
Thanks to new CMS (Content Management Systems) you don't have to have a dedicate webmaster or website developer to build every page. HubSpot's COS (Content Optimization System) makes it easier than ever to add, remove, and update pages without extensive coding knowledge. Gone are the days of having to ask a developer to make simple text edits to a page. Your marketing team, or marketing firm, can build sophisticated marketing workflows that guide users through the sales funnel. Putting the power of site content creation in the hands of the marketers saves time, money, and resources.

That's it...my predictions for website trends in 2015. Have a look at your website, content, and marketing team to see if your up to snuff with these trends for the new year. Think I missed something? Please leave comments below with your predictions or any questions you may have.