5 Ways Home Improvement Service Companies Benefit from Inbound Marketing Campaigns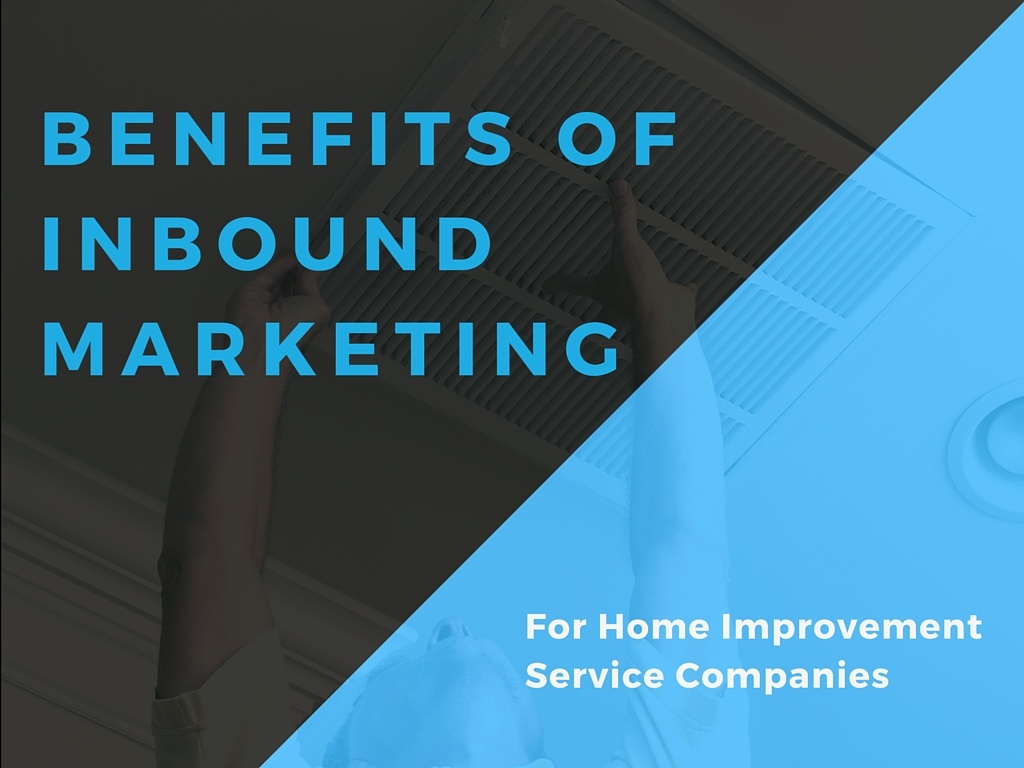 When I sat down to write this blog, I considered thinking of a clever way to compare the benefits of inbound marketing to house building. But it was Monday, and to be honest, I know very little about building a house. As I sat staring at my blank screen, debating whether to Google 'how to build a house' or 'basic house structures,' I realized I was overcomplicating the matter. Inbound shouldn't be complicated, and the process of explaining the benefits of planning a home improvement inbound marketing campaign shouldn't be complicated either.
So in a very straightforward manner, with nary a house building reference to be had, here are five reasons home improvement companies can benefit from inbound marketing campaigns.
Create Local Awareness
One of the biggest advantages home improvement companies can get from inbound marketing is an immediate increase in local SEO. Why is this important? Because 50% of consumers who do a local search from a smartphone will visit a local store within a day, and 34% searching from a computer or tablet will do the same. And if consumers can find your company online when they perform a 'near me' search, they'll be far more likely to pick up the phone to call or come in when they really need a new roof or when the AC stops working in the dead heat of summer .
Your inbound campaign and company website work hand-in-hand to build local SEO, driving up your rankings in the search results for local businesses. For some excellent tips on how to build your local SEO, read "Match Your Local SEO to Your Business Type with the Local SEO Checklist" from Moz.
Educate and/or Entertain Your DIY Customers
Modern consumers are empowered. They search for answers and solutions to their problems online, and DIYers are prime examples of the kind of people who want to fix problems for themselves. Whether they're researching for future projects or need an immediate solution to a clogged drain, offering up the right article, video or how-to for their needs will leave a lasting impression. You're building trust and authority with every piece of content. And producing content that will empower your audience when they need it is at the heart of inbound marketing.
For a list of resources we use to plan our inbound marketing campaigns, read "What Resources Will I Need to Plan an Inbound Marketing Campaign" from inbound marketing sensei, Andrew Rodgers.
Your Content Lasts
Another major benefit to inbound marketing content is that it continues to build your SEO and educate your audience long after the initial publish date. With each inbound marketing campaign, you will produce an advanced content piece, blogs, social media posts and more around a particular theme that is important to your audience. For example, a Q1 theme for a roofing company could be centered on spring home maintenance; a Q3 theme could be fall home maintenance. This content will remain useful and relevant for your audience each and every year after, and it will be available to them whenever they need it. We like to refer to inbound content as evergreen, and we see this results of this in our own blogs. Blog posts we produced over a year ago still get a good amount of monthly views. The key is to produce quality content your audience wants and needs. Do that, and they will continue to find it online when they need it.
Develop Relationships in Your Community
Another benefit to inbound marketing lies in how it can help develop and strengthen your relationship with your audience and in your community. When potential customers visit your website, your Facebook, Twitter, LinkedIn or other social sharing sites, they want to see your connection to the community, and they want know that you're more than a sometimes very expensive home repair.
Every day, you're out in your community — rebuilding and repairing; you're part of shaping your community through your service. It's this kind of daily interaction, on a digital level, with the people of your community that make social media highly effective in your inbound marketing campaigns. We've mentioned how each piece of content creates local awareness, and that is especially true for social media. Many of your customers are proud of their homes, and it's more than likely that they'd be thrilled to be tagged on Facebook or Twitter. Social media is about changing how you view your audience and how they view you. Social media moves you out of the buyer/seller relationship and into trusted partners.
With each piece of quality content you share with your customers, you're establishing yourself as an authority in your industry. You're showing your audience that you understand their needs and wants. More importantly, you're showing them that you care about those needs by producing content that helps. This goes a long way toward building relationships potential customers.
Inbound Is Cost Effective
Whether you're a small business or a home improvement retail chain, inbound marketing is, by far, more cost effective than outbound marketing.
I'm by no means advocating only using one method of marketing over the other; both serve a purpose. But if you have a limited budget to work with, inbound can be a great place to start. Inbound leads cost 61% less on average than outbound leads, and an inbound marketing campaign can begin to generate leads for any size business almost immediately.
Improving Your Marketing with an Inbound Campaign
And there you have it: Five ways inbound marketing can help home improvement service companies. You've probably noticed that each benefit clearly helps build upon and support the others. Inbound marketing is a cohesive strategy, and the benefits compound as you continue to produce more content that is focused on your audience.
These are by no means the only benefits, and they're the same benefits any business can get from inbound marketing. But when so many articles focus on how inbound marketing can help B2B, we felt it was time to highlight how effective it can be for B2C industries.