2 Hang-ups that Can Stop B2B Healthcare Companies from Rocking Social Media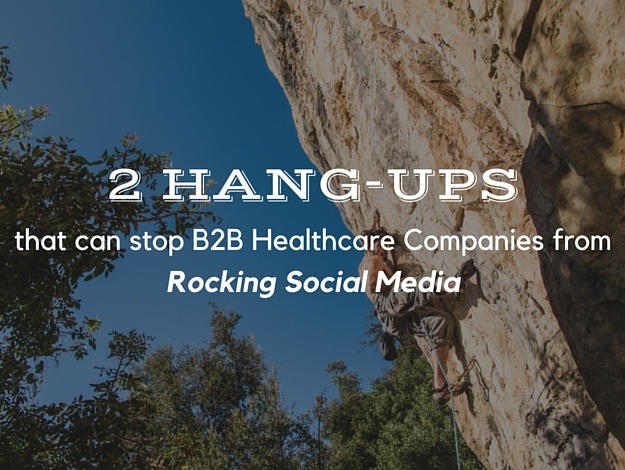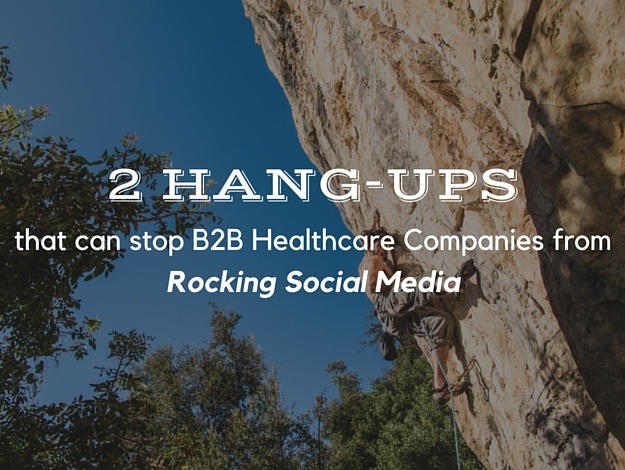 All too often, B2B companies struggle to produce social media content. Whether that's because they don't think their industry is "interesting" or because they don't know how to reach their ideal buyers through social networks, it holds them back from reaching extremely engaged audiences—especially for B2B healthcare companies. If your business has something remarkable to offer an audience searching for healthcare solutions, social media could very well be the right space to demonstrate exactly what's special about your brand.
In this blog, we'll take a look at how you can get past some of the roadblocks that are holding you back from developing a social media strategy that rocks so you can really make an impact on your ideal customers.
1. You're Focused on a Faceless Company Rather Than a Buyer
Many B2B companies—in fact, most companies outside of major national brands, I would venture—have a minimal presence on social media. Sure, you might be running a few ad campaigns on the platform of your choice, but chances are you aren't publishing a wealth of content, and you certainly don't do much interacting. The decision to forgo social media is often based on the inaccurate assumption that you can't do social media effectively when you're a B2B company because "the audience just isn't there"—a statement I've heard many times from clients.
Here's what you need to do: stop thinking of your buyer as a faceless corporation. Though you would love to have The Mayo Clinic or UPMC as a client, you're not actually selling to these health systems. Your buyer—whether that person is a C-Suite executive or one of many purchasers in a hospital or health system—is a person. You should be directing your tweets, LinkedIn posts, and other social media updates at the same buyer personas you have developed for your other marketing strategies.
Even if these buyers aren't using Twitter or LinkedIn in their job function, they likely still use social media in some personal or professional capacity, staying abreast of the latest industry buzz.
In fact, "Patients, doctors and healthcare providers are converging on social media as the go-to hub for health and disease information and health issues," writes Joana Belbey, Social Media and Compliance Specialist for Actiance (emphasis added).
You want to be a part of that dialog.
Forget the myth that social media doesn't work for B2B companies. Start researching trending healthcare hashtags, joining LinkedIn groups, and contributing to these conversations. Share information that buyers can use to solve their pains or guide their decision-making process.
2. Compliance or Regulatory Fears Are Holding You Back.
Unfortunately, where other industries have made steps toward embracing social media, healthcare has lagged behind—possibly held back by regulatory concerns.
Healthcare is one of the most strictly regulated industries in the US. Right up there alongside finance. You've got a whole alphabet soup of regulations to contend with—ACA, HIPAA, HITECH, ERISA. Share too much on social media, and you could find yourself facing fines and other costly penalties. For some healthcare companies, the worry over being slapped with a noncompliance suit can often lead to a hesitance to share at all.
B2B companies are able to sidestep this issue somewhat.
Yes, healthcare communications are rigorously regulated—at both the state and federal level—there's no getting around that, and the consequences can be steep for organizations that share information that can be used to identify a patient. But it's much easier to avoid accidentally sharing identifiable information when your social shares are focused on solving buyer's pains and not marketing directly to consumers. However, caution is still called for if your company will be handling patient information in any way—whether data passes through your systems, your product houses patient information, or you analyze collected data.
A social media plan can help you avoid a costly mistake—especially when you also have a 2-step posting process. You can either invest in a monitoring software that can flag posts with particular keywords or have posts reviewed by at least one other individual before they can be published.
While it can be tricky to navigate social media in a regulated industry, it is still worth the effort.
Learn How to Measure the Impact of Your Efforts.
Once you've started down the path to B2B social media stardom, make sure you're taking advantage of analytical tools that can help you measure the performance of your various campaigns. The right tools can help you track the website visits, blog views, landing page conversions, and other actions on your website that can be attributed to your social media strategy. This allows you to get a clearer picture of what kind of messages are working and which ones are falling flat so that you can adjust your healthcare company's strategy accordingly.