The 2 Best Ways to Make Content Marketing Fun Again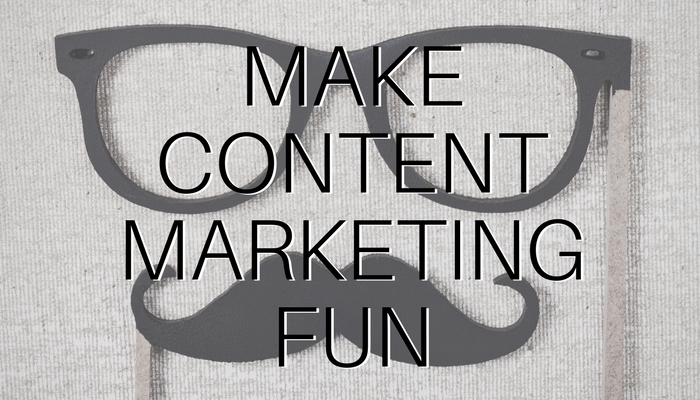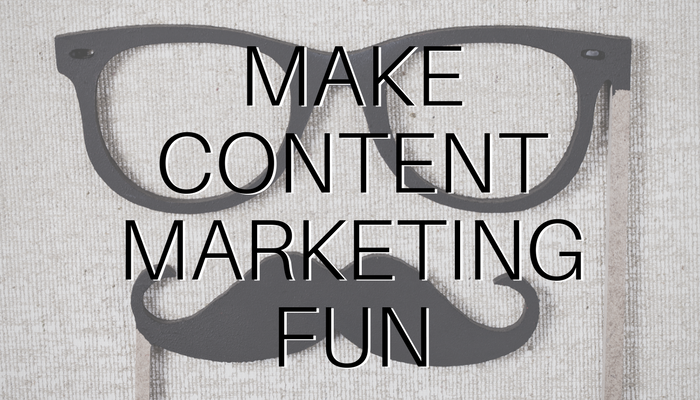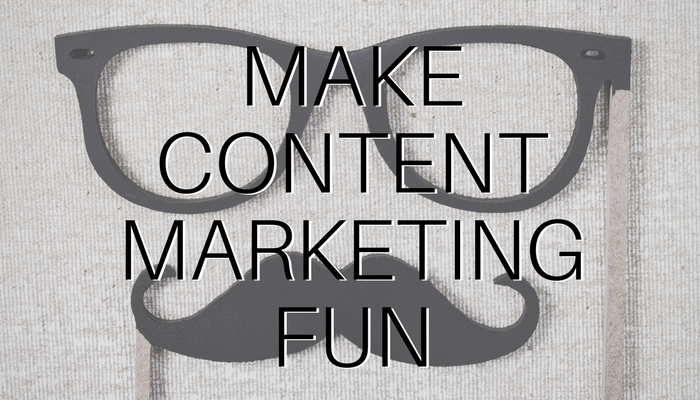 Left on autopilot, marketing can become quite a drudge. Really.
There are only so many CTA-driven social posts you can compose and schedule, so many SEO-optimized inbound blogs you can write, and so many sales emails you can deploy before you go stark, raving, loony.
I mean, this is marketing, right? Isn't this supposed to be a field in which we creatives can actually stretch our creative muscles, test new ideas, and inspire audiences? Aren't our ads and campaigns supposed to occasionally incorporate some element of pleasant whimsy?
Don't you think it's time to make content marketing creative agan?
Luckily, we can. And because we know, from consumer data, that fun and creative content will always beat utilitarian content in terms of efficacy, there's a strong case to be made for ensuring we do so.
So, how can small businesses, large companies and ad agencies do that?
How can we put our heads together to come up with content that satisfies our itch to engage prospects (and ourselves), while still touching on all the comparative advantage points the folks over in Sales supply us with?
Never fear. We're about to tell you the two best ways to inject some fun back into your content marketing strategy. Step back from the ledge, relax, and read on.
Try new content formats.
What's your content marketing plan look like? Free-standing inserts? Page ads? E-mails all day long? When's the last time your marketing team got out of its comfort zone?
There's a whole universe of new media marketing you're leaving unexplored. We guarantee you'll up the creative level — for yourselves and, most importantly, your consumer audience — if you allow yourselves to delve into it.
Videos
Short marketing videos are en vogue these days — there's no denying it. They're tailor-made to engage digitally-shortened attention spans. They can help you to take advantage of social media algorithms that reward original video content, boosting your brand's visibility in your audience's various feeds. Most of all, they can get your team's creative mojo flowing again.
And they're not necessarily expensive to make. All you need is a tight script (something your copywriters are dying to take a crack at, we assure you), a decent handheld digital camera, and some free video editing software.
Don't think you can pull it off? Tell it to Dustin, proprietor of Dustin's Fish Tanks in Lexington, Kentucky.
He's built a hobby-centric small business empire all on his own, using only his own experientially-derived knowledge about aquarium-keeping, a little creativity, some basic vid capabilities and his quirky passing resemblance to Vince the ShamWow Guy (he even emulates the guy's verbal cadence).
Infographics
Speaking of small businesses and sole proprietorships: can't afford to hire a graphic designer?
Use an intuitive, beginner-friendly design tool like Canva or Piktochart to create engaging infographics (or even hilarious memes — don't discount the power of irreverence in building a cult following) to augment your digital marketing efforts.
Podcasts
Find a brand-related passion topic you're knowledgeable about and start your own podcast.
Episodes don't have to be long; 10 or 15 minutes will do just fine. Slowly build up a library of podcasts, host them on your site or on a free service like Soundcloud, and promote them on your social media channels.
All you need to get started is a couple of decent-quality, USB-connecting mics, inexpensive foam pop filters, a laptop, and some free, intuitive sound editing software (we love Audacity).
Talk about the things you care most about.
Let's circle back to ol' Dustin there. You know why, ultimately, his videos work? It's not because they're all that polished. It's because of his passion for the topic.
Passion is exactly what you should be bringing to your content marketing. Hopefully, you have some for your brand. Find ways to connect your planned content to the topics you personally care about or are otherwise interested in.
If you're drawing on your own knowledge, you'll never run out of things to say or topics to explore. Take a look at Dustin's vid list: how-to videos about building out tanks on the cheap, amazing stories of snail survival, Aquarium Plants 101, Top 5 Fish with the Worst Lives Ever . . .
Do these sell fish and aquarium accessories to his customers? You betcha.
Because hobbyists see them and think, Ah! Here's one of our own.
And he's not accomplishing that with over-analysis of consumer data, endless parsing of his segments, focus groups, defined campaigns and intricately-designed sales funnels. Those things can work — but there's no need to over-analyze.
Even national and multinational businesses can achieve brand-building success by allowing themselves to wink at their audiences. Remember when Wendy's Twitter feed captured America's heart earlier this year? Now there's a large company that has a long history of profiting by whimsy. Plenty to be learned from its advertising record.
Just remember, the main takeaway here is not to let your marketing stuff get too stuffy. Don't allow your programmatic spends to become too programmed. Once in awhile, leave yourself a wild card space to talk about anything you want. Stick to your passions, and the customers will follow.