It Takes HOW MUCH Work? The Ugly Truth About Inbound Marketing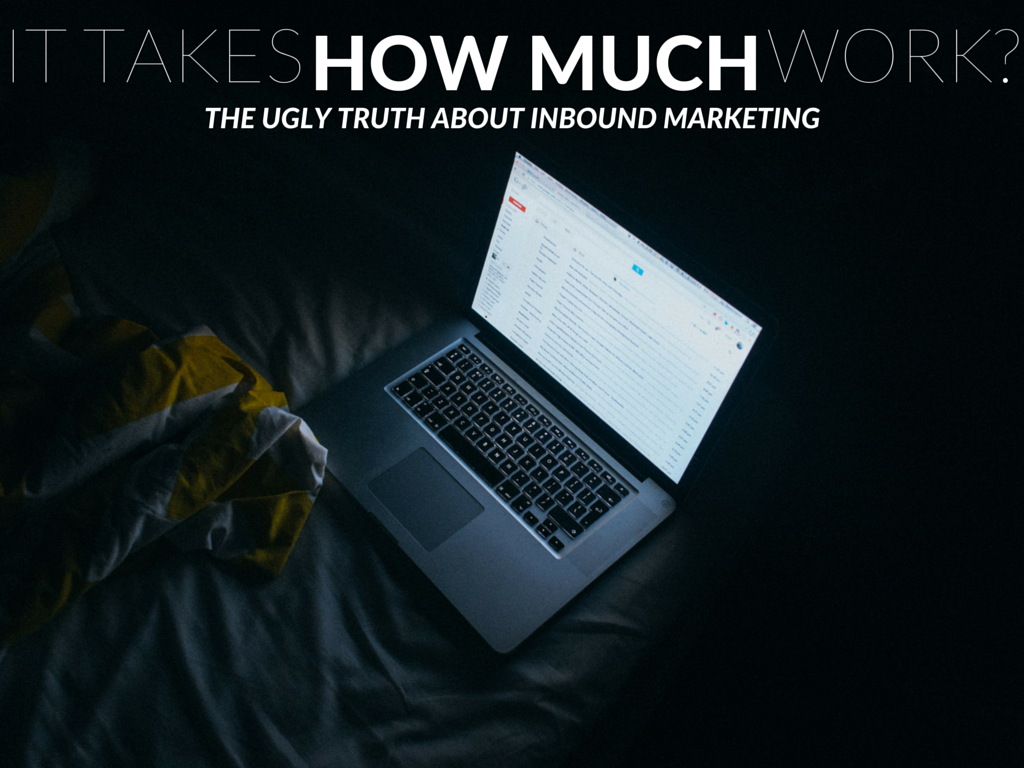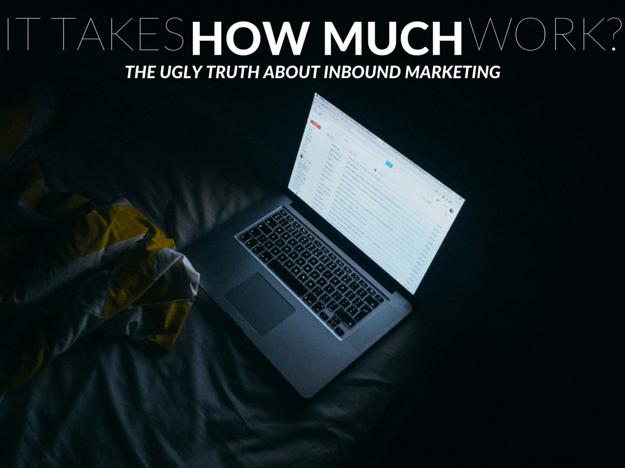 Inbound marketing has been a buzzword for a while now. Why? Because it works! Consumer trends indicate that B2C and B2B customers are doing up to 75% of their shopping research before they enter the store. Inbound marketing strategies can give them customer service, answer questions and help them make pre-buying decisions before they meet you. However, there is a catch to inbound marketing: it doesn't make results happen overnight. In the majority of cases, it takes four to six months to see real results from inbound marketing campaigns. Therefore, you have to be willing to put in the necessary work to drive your prospects down the funnel to become buying customers. Although this doesn't cover all the aspects of an effective inbound marketing campaign, here's an overview of some of the hard work necessary for a successful inbound strategy.
Why Use Inbound Marketing?
Inbound marketing is a welcomed change in marketing culture — it's slowly taking hold in all areas of the industry because marketers are discovering that the old style, or "outbound" marketing, is no longer successful. It was designed for a buying model that is being usurped by the Internet, which gives buyers the ability to do their own research by accessing resource materials that answer questions they may have about products and services. Customers can search for information from their desktop, tablet or smartphone 24/7 long before they contact a sales representative. So, if you use inbound marketing correctly, you can help customers make informed decisions before they decide on a purchase.
Inbound Marketing Timeline
In a recent presentation at the Content Marketing Conference, Vertical Measures CEO Arnie Kuenn discussed several case studies that showed the timeline for significant results in a content marketing campaign. The case studies were examples of students who applied inbound marketing campaigns to websites without any brand recognition in order to raise awareness and drive traffic to them. After six months, the traffic jumped up and stayed there. While there were fluctuations due to industry variations, the pattern clearly stood out — inbound marketing doesn't provide a quick turnaround at the beginning of a campaign, but marketers that stick with the campaign get results over time.
Know Your Buyer Persona
The best inbound marketing team uses consumer data to determine their ideal buyer persona, or personas. Yes, it's extra work, but the results are worth it. The more you know about your typical buyer, the better you can learn what type of information they need before purchasing your products or services. ConversionXL offers some guidelines as to how to develop the persona for your target market. Customers want brands to fulfill their needs, not just sell them products and services. Once you build a solid buyer persona, you can apply inbound marketing techniques to your strategy to give them the exact content they want.
Offer Customers Helpful Information for Free
One of the "hassles" of inbound marketing is the large amount of content you produce as part of your strategy. To ensure inbound success, customers must be able to access useful information for free to help them decide what they need, answer their questions and to help qualify them before they make an appointment or purchase. Inbound marketing can start at the beginning of the funnel to drive brand awareness and provide basic information, and also help qualify customers further down the funnel with advanced content when they get closer to purchasing. Most inbound marketing giveaways come in the form of articles, whitepapers, books and videos; however, you can use any form of content to provide answers to your customers and prospects. That's a lot of strategic thinking.
More Work for More Results
Despite the extra effort and strategizing, inbound marketing offers a proven way to meet the needs of shoppers today who do much of their research online before they contact a vendor. Using inbound strategies gives you an opportunity to reach out to your target audience with useful information to help them make buying decisions, plus you get more customers. So, the truth's not that ugly — as long as you're willing to put in the work and the time, you will see successful results in your own inbound marketing campaign.