B2B and B2C Content: What's the Difference?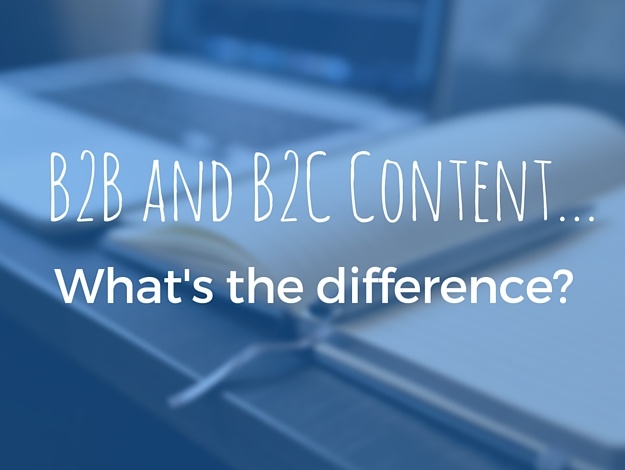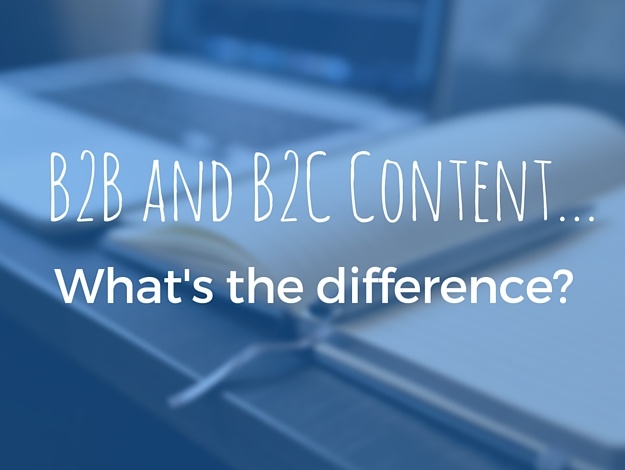 Content marketing is tricky. From the challenge of coming up with ideas to all the things that can go wrong, it's not easy to figure out what prospects want from your content. An effective content marketing campaign can help simplify your marketing planning process, but that process will change depending on whether your company is B2B or B2C.
Here's the Breakdown
Before we delve into content, it's time for a refresher: The buyer persona, and thus strategy, can differ wildly for B2B and B2C industries. So how does marketing to those audiences differ?
B2B marketing typically includes a longer decision-making process (sales cycle). A large company isn't going to make spur-of-the-moment business decisions, and several people may need to be involved with the decision-making process.
B2B marketing typically results in a longer relationship. It would be costly and time consuming for a large company to change their business relationships each month. Once they've found a reliable partner, they're going to want to stick with that partner for as long as possible.
B2C marketing has an emotional aspect. Telling a story that creates an emotional response — specifically, one that could be recreated through the purchase of your product or services — appeals to B2C customers.
B2C marketing typically solves problems. Businesses have access to a whole gamut of companies promising solutions. But for the single customer, a company that can solve their unique problem is one that will win their business.
B2C encompasses many buyer personas. B2B companies are typically able to narrow down their buyer personas more easily than B2C companies. If your product or service caters to small businesses, you only need to create content appealing to those businesses. For B2C companies, you're marketing to many different types of buyers. If your product or service is geared towards swimmers, even within that niche you need to account for beginners and more advanced swimmers, swimmers in lakes or oceans versus pools, etc. Content that appeals to one buyer will not work for all.
As an example, consider an advertising agency; the agency is B2B in that it seeks to attract work from other businesses. But that ad agency will use B2C strategies to help those businesses attract individual customers. So how do you reach each audience? It's all about what message your content shares, what format you produce it in and what channels you use to promote it.
Message
Think of this as the "content" of your content. What do you want and need to share with your prospects in order to move them along the buyer's journey? For B2B companies, that message should utilize their wealth of industry knowledge. A good B2B content marketing strategy will showcase the business as a thought leader — the most insightful, helpful source of information. As we've already mentioned, B2B businesses have access to a wide variety of potential solutions for their problems. You must establish your trustworthiness and authority on the subject for which your ideal customer needs a solution. The decision-making process of corporate customers is grounded in reason and ROI — back up your claims with hard facts and data.
B2C businesses should create content focused on the topics customers care about. Case in point: Someone wanting to buy a new novel isn't going to be wowed by content on how your business is a bookseller thought leader. They'll want to know what genres you stock, your new releases and how you'll be able to create an outstanding shopping experience. And don't overlook brand appeal. An IPG Media Lab study found that consumers who viewed sponsored content on Forbes.com were 41 percent more likely to say they would buy that sponsored product than those who did not view the sponsored content. Big-name brands, like Forbes, carry weight with consumers.
Format and Channel
Your process for planning a content marketing strategy should also take into account what type of content and what channels are most appropriate for B2B and B2C.
For B2B organizations, company blogs give marketers the flexibility to comment on market trends, new industry developments and establish trustworthy dialogue. In-depth white papers and case studies (especially those that showcase businesses' positive ROI) are additional ways to appeal to B2B consumers as they travel along the more extensive buyer's journey. When it comes to social media, LinkedIn reigns supreme with its focus on helping users establish business connections.
A staffing company, for example, will find that they can use LinkedIn's Sponsored Updates to target companies currently hiring so that their message reaches the most appropriate audience.
Facebook, Twitter and even LinkedIn are the best sharing platforms for B2C companies. Responding to customer feedback, sharing updates and developing trackable hashtag campaigns are real-time marketing tools that allow B2C businesses to speak directly to consumers with no intermediary. B2C marketers are more likely to find success with mobile content than B2B marketers, as an individual customer is more likely to make buying decisions on the go and need immediate information.
In the End, Your Content Needs to Be Appealing
Whether your company is inherently B2B or B2C, it's important that your content marketing strategy varies — and some companies may even need to use both B2B and B2C strategies to effectively reach their audiences. While those marketing planning processes differ in a number of key ways, the lines are blurring. Both B2B and B2C companies want to create and heighten brand awareness, attract the right leads and convert those leads into buyers. Ensuring that your content appeals to the correct prospects — and buyers — is crucial. Only by understanding your buyer personas and what appeals to each segment can that conversion occur.